Contextual information about the conversation helps you respond effectively to your visitors. iAdvize allows you to automatically receive a summary of past conversations, add tags and take note of key information at any time during the conversation.
This feature is available from your console or from the iAdvize mobile.
application. Administrators can choose whether or not to offer it to their respondents, depending on the project and the company's internal policy. Read the dedicated article to find out more.
1. The principle
This feature allows you to quickly obtain key information about your previous exchanges:
When a conversation is paused or transferred, a summary of the conversation is automatically generated using the OpenAI API without any human intervention,
The summary is displayed directly in the conversation thread, and in a new "Notes" widget in the right-hand menu of the desktop,
You can then assess the relevance of the information provided to help us continually improve the solution,
At any time during the conversation you can add tags to complete the information received automatically before the conversation is closed,
You can also save important information by taking notes, and consult the notes of previous respondents (attached to a transfer or a paused conversation).
2. View conversation summaries, add tags and notes on your desktop
When you start a new conversation, you can see the display below.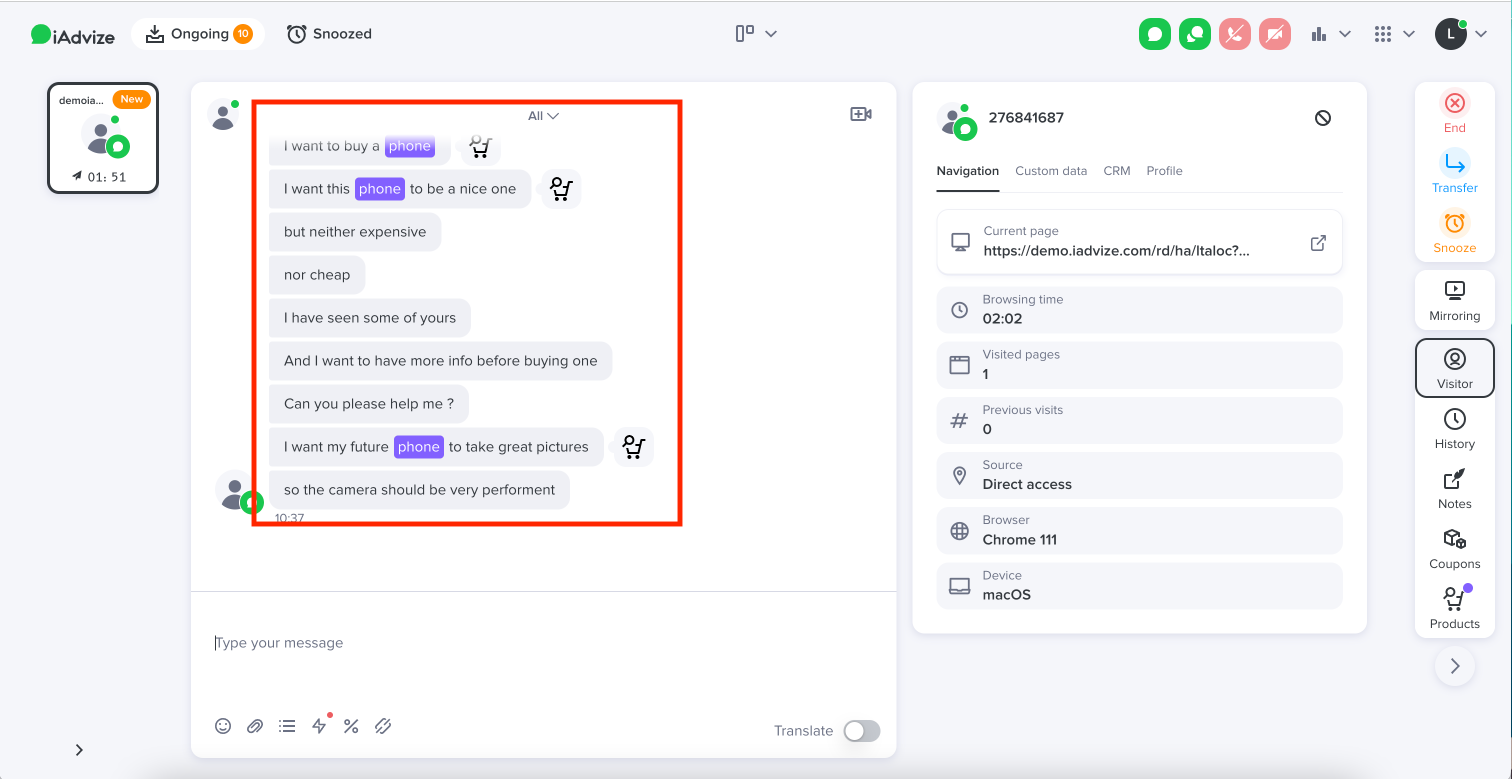 When you pause a conversation you can add a tag and a comment to contextualize the request by clicking on the "Snooze" widget.
Conversation tags and notes are saved as you type.
Example of a conversation paused below: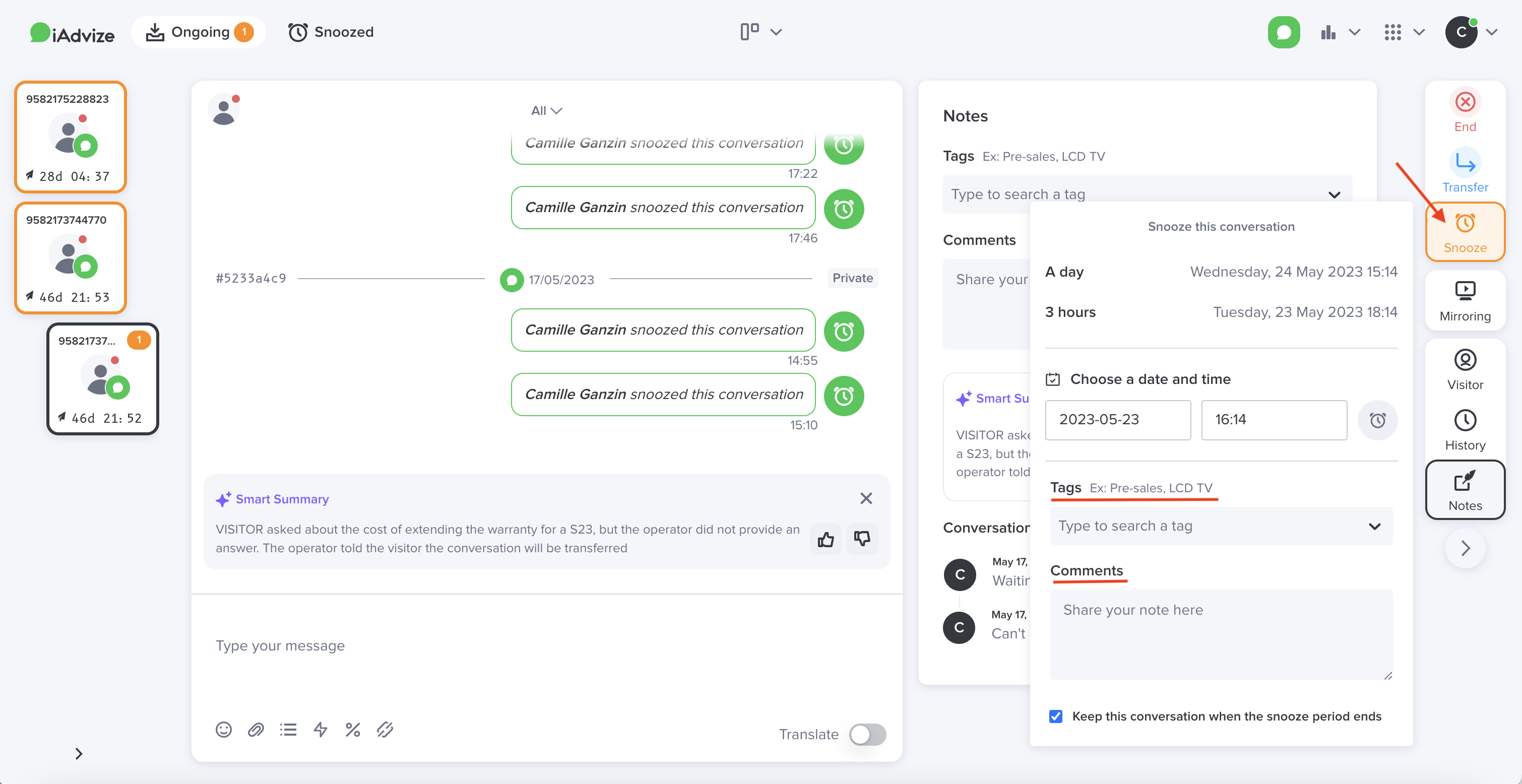 When a conversation is taken out of pause, the automatic summary is displayed both in the conversation thread and in the "Notes" widget with the associated tags and comments.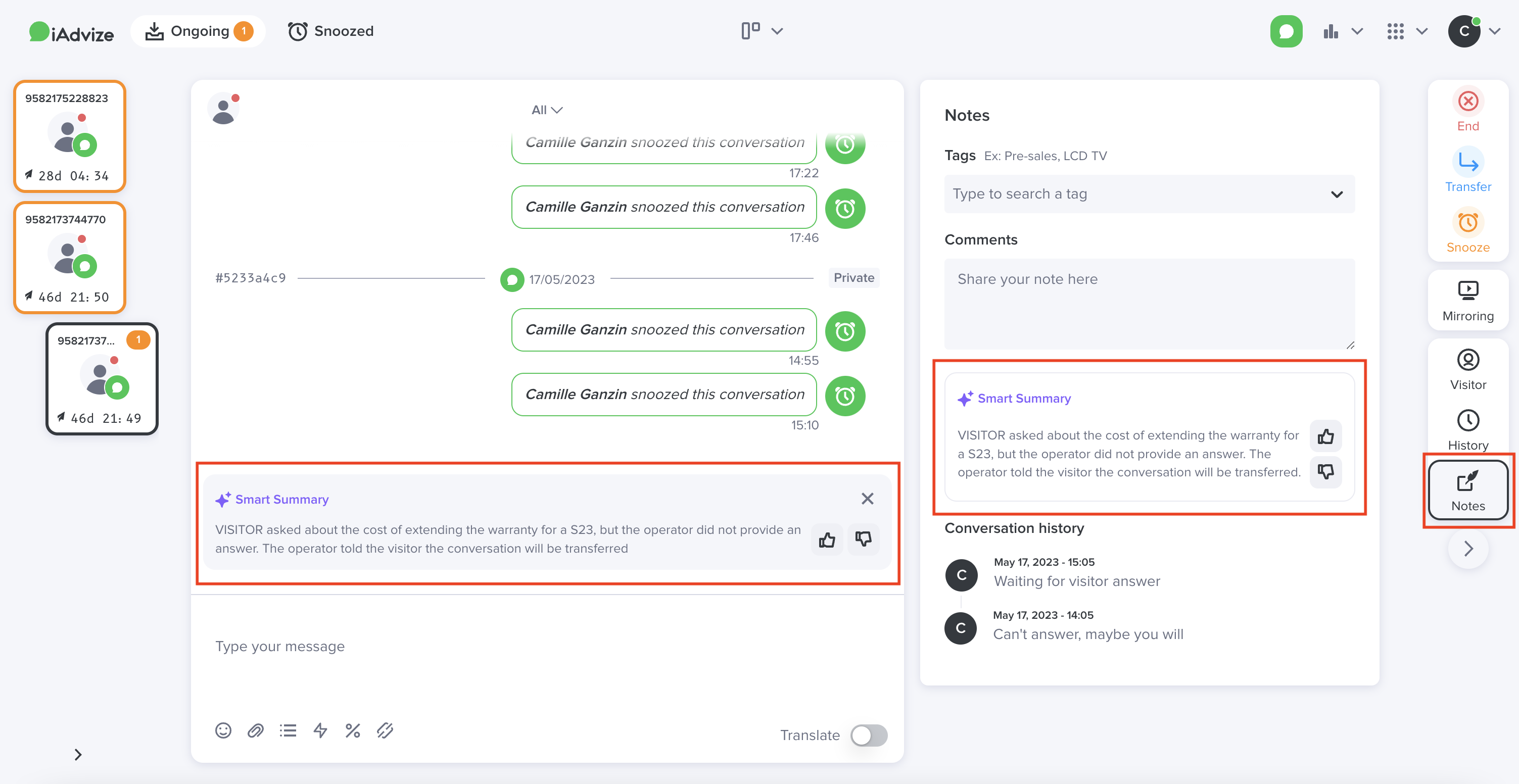 You can rate the quality of the automatically displayed summary by clicking on the thumbs.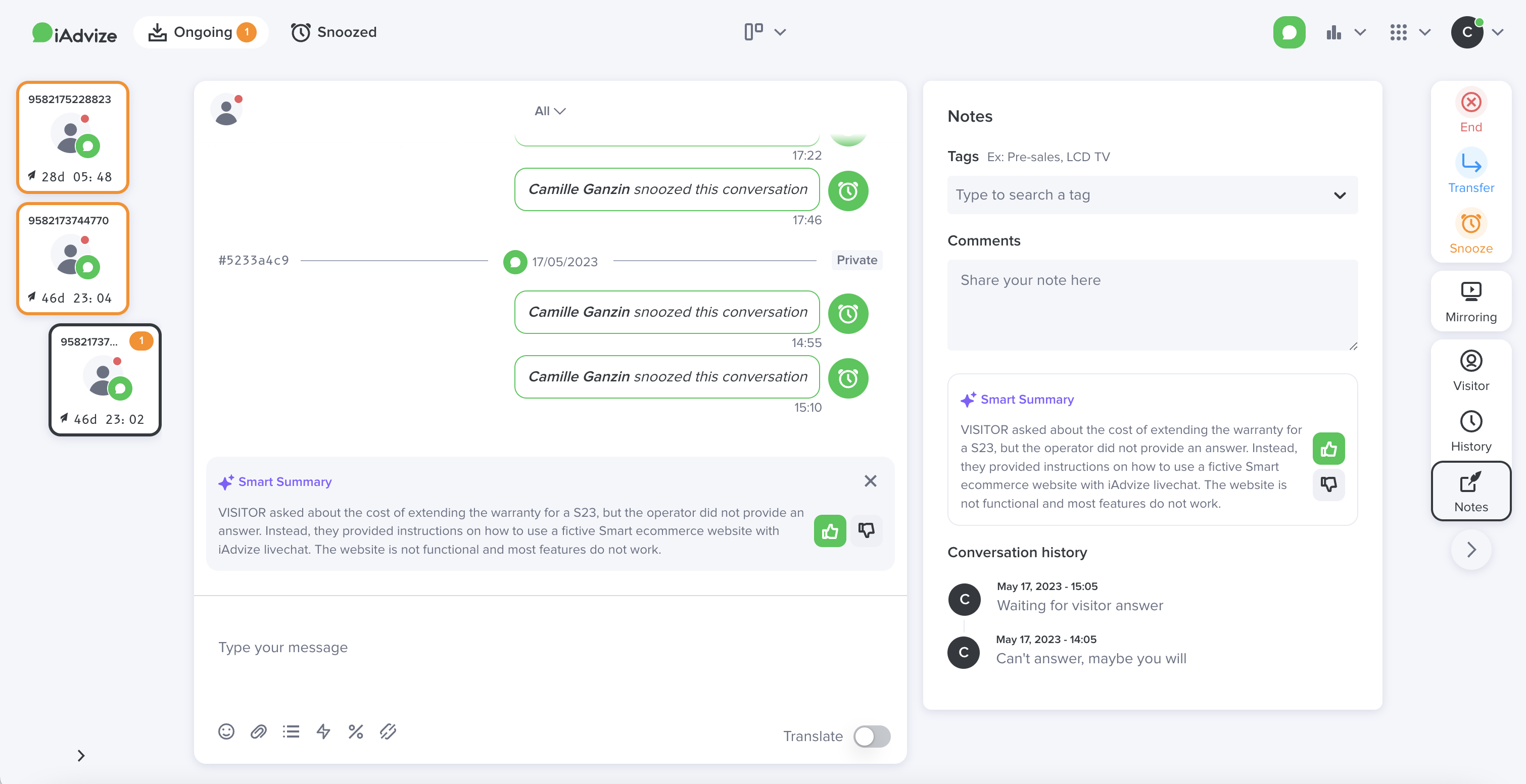 If you wish to transfer a conversation, you can add comments, modify tags, add or delete tags.
When you receive a forwarded conversation, a summary is displayed.
If you are viewing this message for the first time, a warning message will appear. It will disappear when you click on " Got it ".
This summary and warning message are also visible in the "Notes" widget.
Here you can add or remove tags.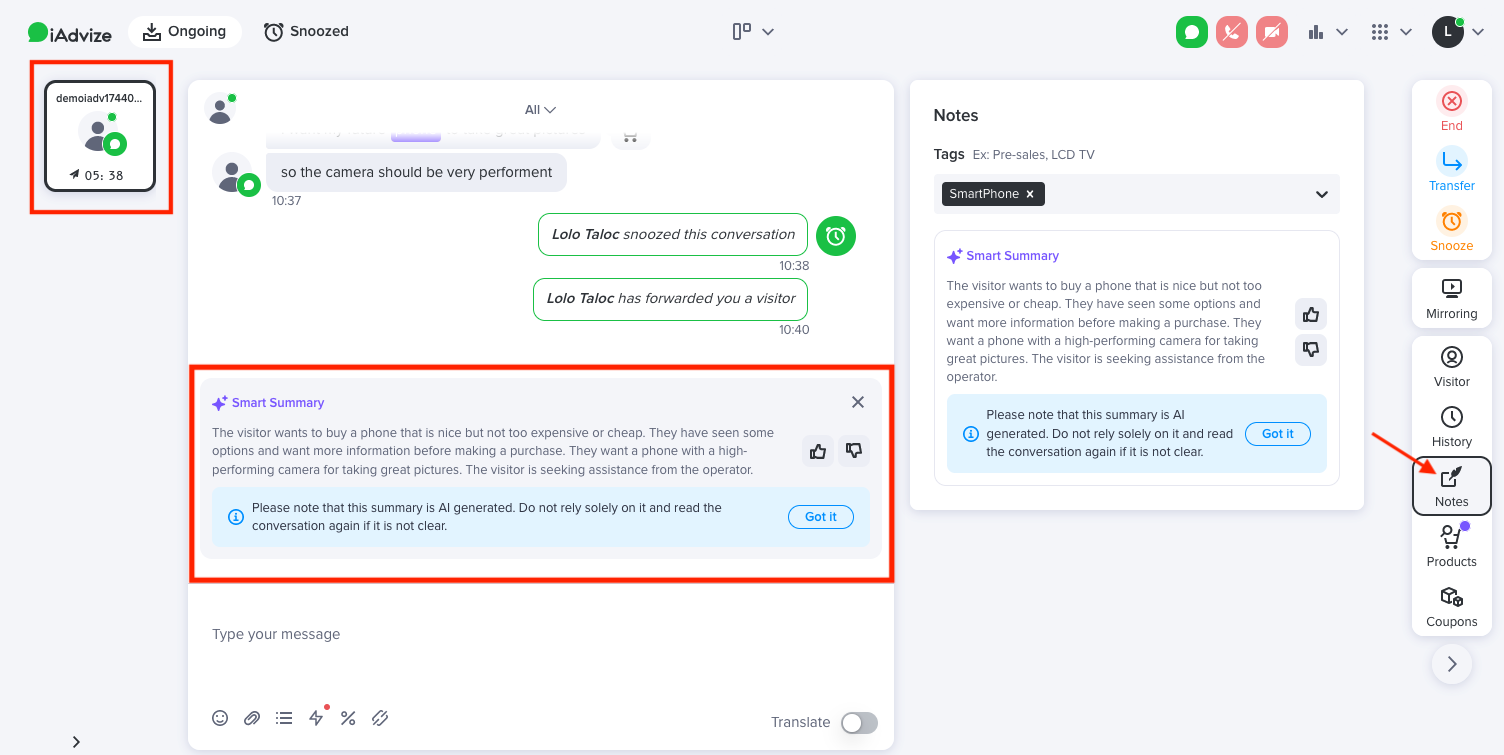 At the end of a conversation, you can add other key information.
All additions will be saved and available from the "Notes" widget.