Whether your website is hosted on a High Availability (HA) or a Standard (SD) platform, at any time, you can have access to the current status and stability of our servers through the Status Page. 

1/ Access the Status Page
2/ Subscribe to the Status Page 
3/ Select notifications by feature
4/ Description of the different elements

1/ Access to the Status page
There are two ways to access the status page :
- You can either directly access it via this url link : http://status.iadvize.com (HA), http://status-sd.iadvize.com (SD)
- Or you can access it via the iAdvize Help Center :

NB: these pages are only available in English.
2/ Subscribe to the Status page
We provide you with a multitude of proactive information channels to constantly keep you informed of the stability of our equipment and services, planned maintenance operations and potential incidents.
You just have to click on "Subscribe to Updates"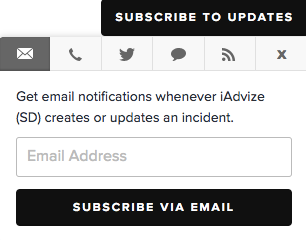 You can choose to be automatically informed :
via email*
via text messages
*You will then receive a confirmation email. Be careful, it's possible that the mail lands in your spam folder. If that happens, please open it and click on the option "Not spam". 

3/ Select notifications by feature
By default, you are subscribed to all notifications. However, you can select to only receive notifications for the information that will be relevant to you depending on your use of the iAdvize platform.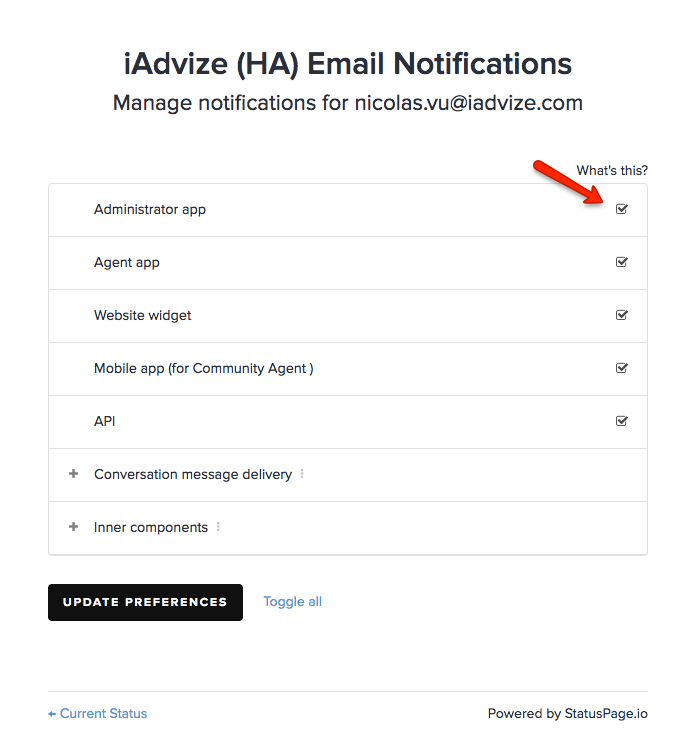 For example : If you don't use the Click to Call solution, uncheck the "Call services" and "Call recording" notifications.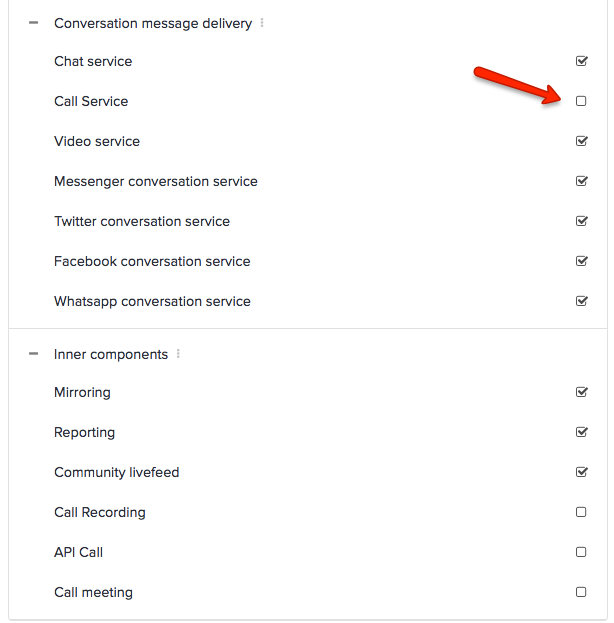 At any time, you can unsubscribe from the status page. To do so :
- If you are on the HA platform, uncheck all notifications.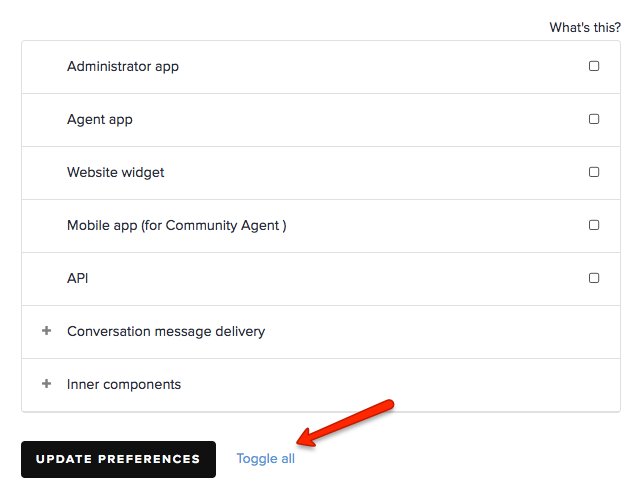 - On the SD platform, please click on "Unsubscribe" from a email status.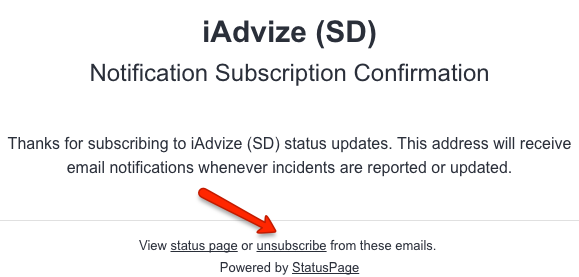 4/ Description of the different elements
Administrator topics

 Access to the Administration, Account Login, Browsing, etc.

Agent topics

 Access to the discussion panel, canned responses, types of conversations, etc.

Website widgets

 How the chat invitation is displayed on the visitor's side

Mobile app (for brand advocates)

 Mobile application available on both Android and iOS

API

 

API Documentation

Message delivery in conversations

 

   Chat Service 

 Routing, XMPP, etc.

   Call Service

 Twilio

   Video Service

 Twilio

   Messenger Conversation Service

 Facebook services

   Facebook Conversation Service

 Facebook services

   Whatsapp Conversation Service

 Whatsapp services

Inner components

 Internal components

   Mirroring

 Mirroring/cobrowsing components

   Reporting

  

   Community livefeed

 Livefeed

   Call recording

 

   API Call

 

   Call meeting