The occupancy statistics (status) allow you to know the period during which your agents are in production, unavailable or occupied.
1/ Access the occupancy report

To access the productivity report, go to "Reports" then choose the report "Presence - Status".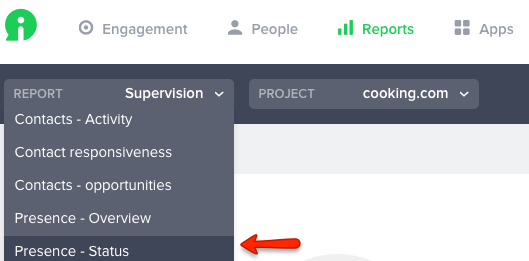 2/ Consult the occupancy data



Follow the productivity of your agents from this page. You will find various indicators such as production rates, innocupation rate, etc. 



Here is the list of indicators provided on the productivity page and what they correspond to:
Title

Description

Formula

Production rate

Percentage of the period of presence during which an agent is logged in and is either available or busy.

Duration in production / Duration of cumulative presence

Not in production rate


Percentage of the period of presence time during which an agent is logged in and is both unavailable and unoccupied.

Not in production duration / Duration of cumulative presence

In production


Period of time during which an agent is logged in to the discussion panel and is available or busy.

Sum of the inocupation durations, partial activity and maximum occupation of each agent

Not in production


Period of time during which an agent is logged in and is both unavailable and unoccupied.

Sum of the durations of each agent where there is simultaneous unavailability and inoccupation.


Unoccupancy rate

Percentage of the period of production during which an agent is logged in and is both available and unoccupied.

Duration of inoccupation / Duration in production


Unoccupancy

Period of time during which an agent is logged in and is both available and unoccupied.

Sum of the durations of each agent where there is simultaneous availability and inoccupation.

Partly occupied


Percentage of the period of production during which an agent is logged into the discussion panel and is partially busy.

Duration of partial occupation / Duration in production


Partial occupation

Period of production during which an agent is logged into the discussion panel and is partially busy.

Sum of the durations of each agent where there is occupation but not maximum occupation.

Fully occupied


Percentage of the period of production during which an agent is logged in and is occupied to the maximum.

Duration of maximum occupation / Duration in production


Maximum occupation

Period of production during which an agent is logged in and is occupied to the maximum.

Sum of the durations where the agent has reached their maximum occupation level
 
Occupancy rate

Part of production time during which an agent is connected to the discussion panel and is occupied partially or to the maximum.
 
Duration of global occupation / Duration in production


Occupancy time

Period of time during which an agent is logged in and is occupied partially or to the maximum.

Maximum occupation + partial occupation

Here are some related articles which we would encourage you to read too : Consult the presentation data