If you cannot respond to visitors because you don't have an answer to their questions or if you are just unavailable, you can forward a visitor to another agent.
We have enhanced the interface which allows the transfer of a conversation to an agent.
It now consists of a two-step process:
the search by a filter engine by typing the first 3 letters of the first or last name of the searched person or the selection in the list of connected operators (see point 1. 2 below). It is also possible to search by skill.
the possibility to leave a comment before forwarding a conversation (see point 1. 3 below)
In few month, you will be able to transfer a conversation to distribution groups and not only to agents.
You will be able to forward conversations from the conversation panel on a desktop device to a mobile device as of the 1st quarter of 2019.
N.B. For now, we don't support transfers from a mobile device to a desktop device or from a mobile device to another.
1/ How to forward a visitor from the conversation panel
1.1/ The transfer
To forward a visitor to another agent, click on the "Forward this visitor" link available in the action panel of your chat window.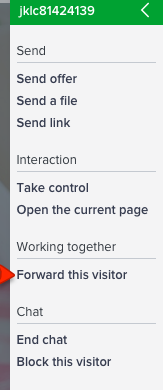 1.2/ Finding an agent to forward a conversation
When the transfer window is open, agents can: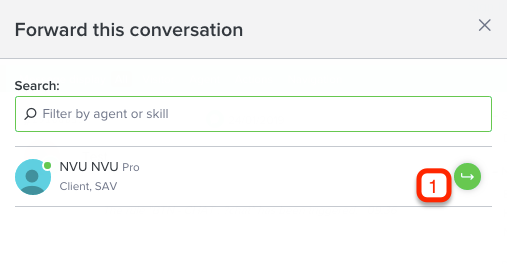 1.3/ Validating a transfer

After clicking on the green arrow and before clicking on the "Forward" button, agents can leave a comment to the person who will receive the conversation.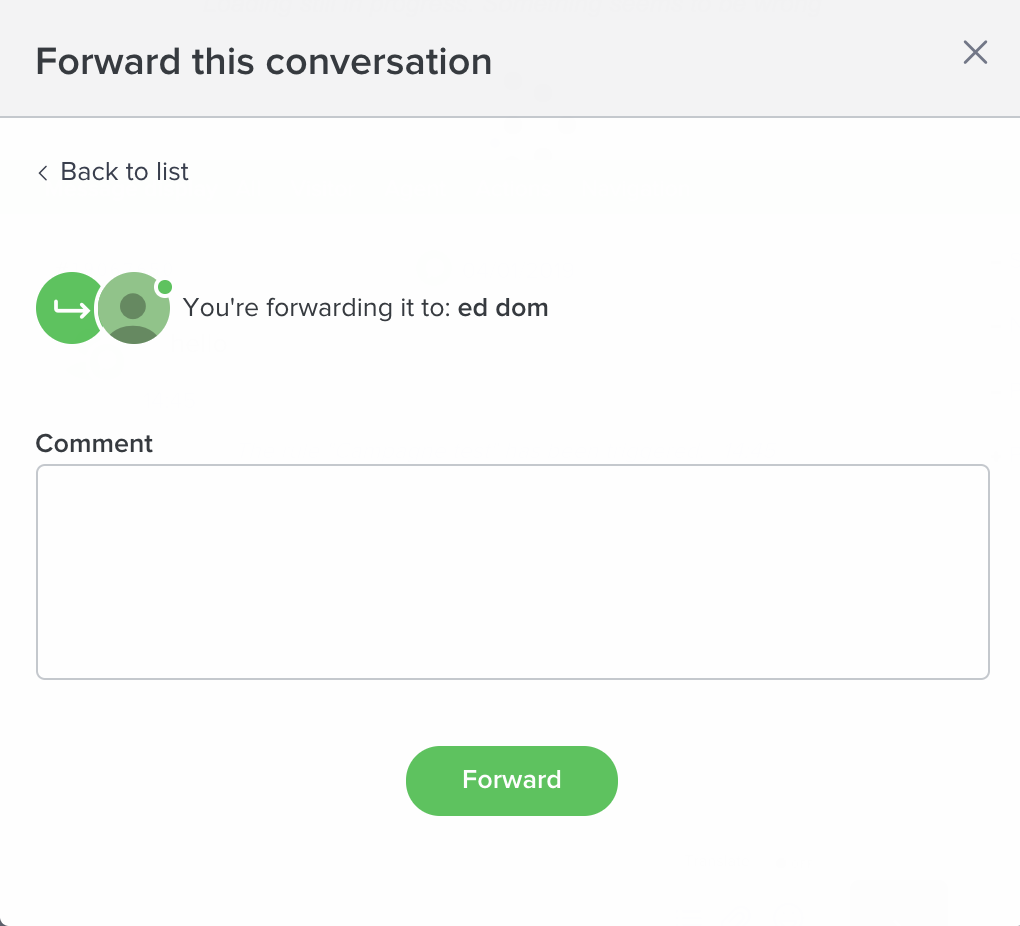 Once the visitor has been forwarded, the conversation is automatically closed on your conversation panel.
2/ What does a transfer look like for recipients?
A new conversation appears in the recipient's conversation panel. A message appears in the conversation to inform agents that the conversation has successfully been transferred. This message can include a reason why the visitor has got transferred if the previous agent indicated it while forwarding the conversation.
The new agent can read the messages previously exchanged between the previous agent and the visitor, and then continue the conversation.


3/ What does a transfer look like for visitors?
A message is also sent to visitors when a conversation gets transferred. However, we recommend you to inform visitors in advance in order for them not to be surprised or disturbed.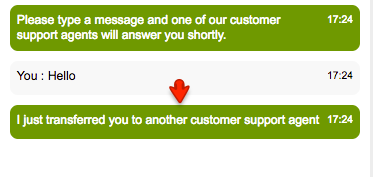 4/ Groups and transfers
An agent who belongs to a certain group will not be able to forward a conversation to an agent who does not belong to this specific group.
An agent who does not belong to any group or to group 1 for example, can only forward conversations to an agent who belongs to another group (e.g. group B) if conversation transfers to group B are allowed. This option is available in the group management page. You just need to tick a box when editing the group: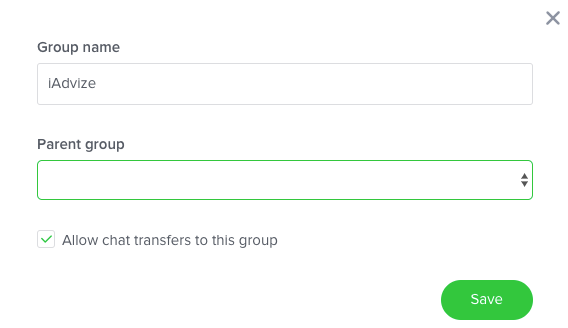 The transfer is only possible if both agents have the project for which the conversation was initiated jointly.
5/ Statistics reports
When agent A receives a conversation and transfers it to agent B without answering it, agent A's conversation will be added to their contacts report in the section of conversations initiated with no response.