Badges were created to engage and animate your community. For this purpose, the ambassadors are accompanied and stimulated throughout their journey with the iAdvize chatting tool and your visitors as a brand ambassador. 20 badges are available by default and have to be unlocked according to predefined criteria. It is also possible to associate the badges with rewards.
In addition, you have the possibility to create your own badges, it enables you to customize your community's gamification.

⚠️ The badge collection is not available for 3rd Party Channels so 3rd Party Conversations won't fuel the gamification system.
1. Principles
Throughout their journey, the ambassadors collect multiple badges (associated or not with rewards) highlighting their commitment, performances, availability and quality.
The activation of each badge is kept secret to encourage speculation and competition with the communities.
2. Types of badges
There are 3 types of badges:
Permanent badges unlock once, on one single level.
Graduated badges are available into three progression levels (1,2, 3 stars) and can be reversible. Ambassadors can indeed lose them according to their performance.
Temporary badges have a limited lifespan.
3. Access from the administration
As an administrator, you access all the badges by going to: "People" > "Community" > "Gamification".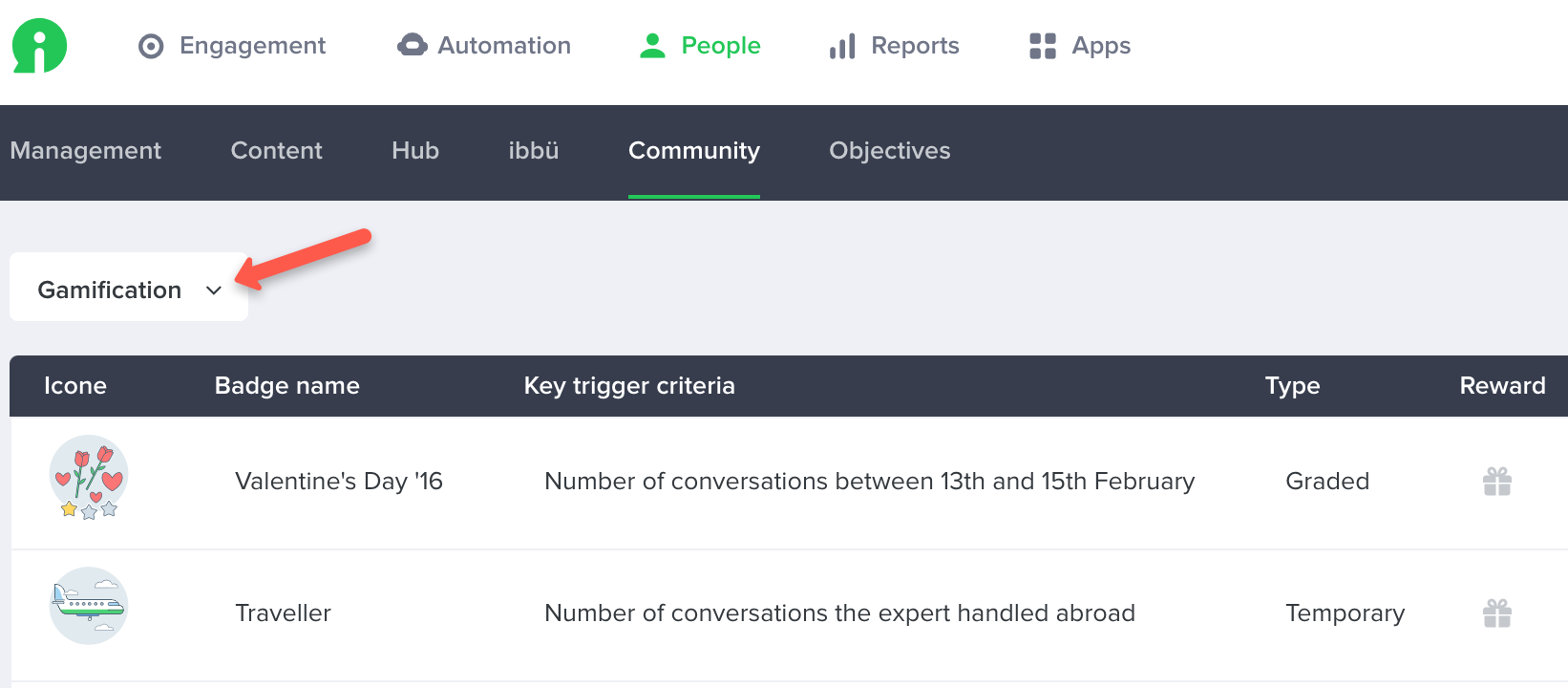 4. Manage the badges
The gamification page lists all the badges (and the associated rewards if any) available for the ambassadors to unlock. Each badge is associated with an icon, a name and a list of trigger criteria.
The page allows you to:
Create your own badges (1).
Have an overview of the number of triggered badges (2).
Associate the existing or customized badges with rewards (3).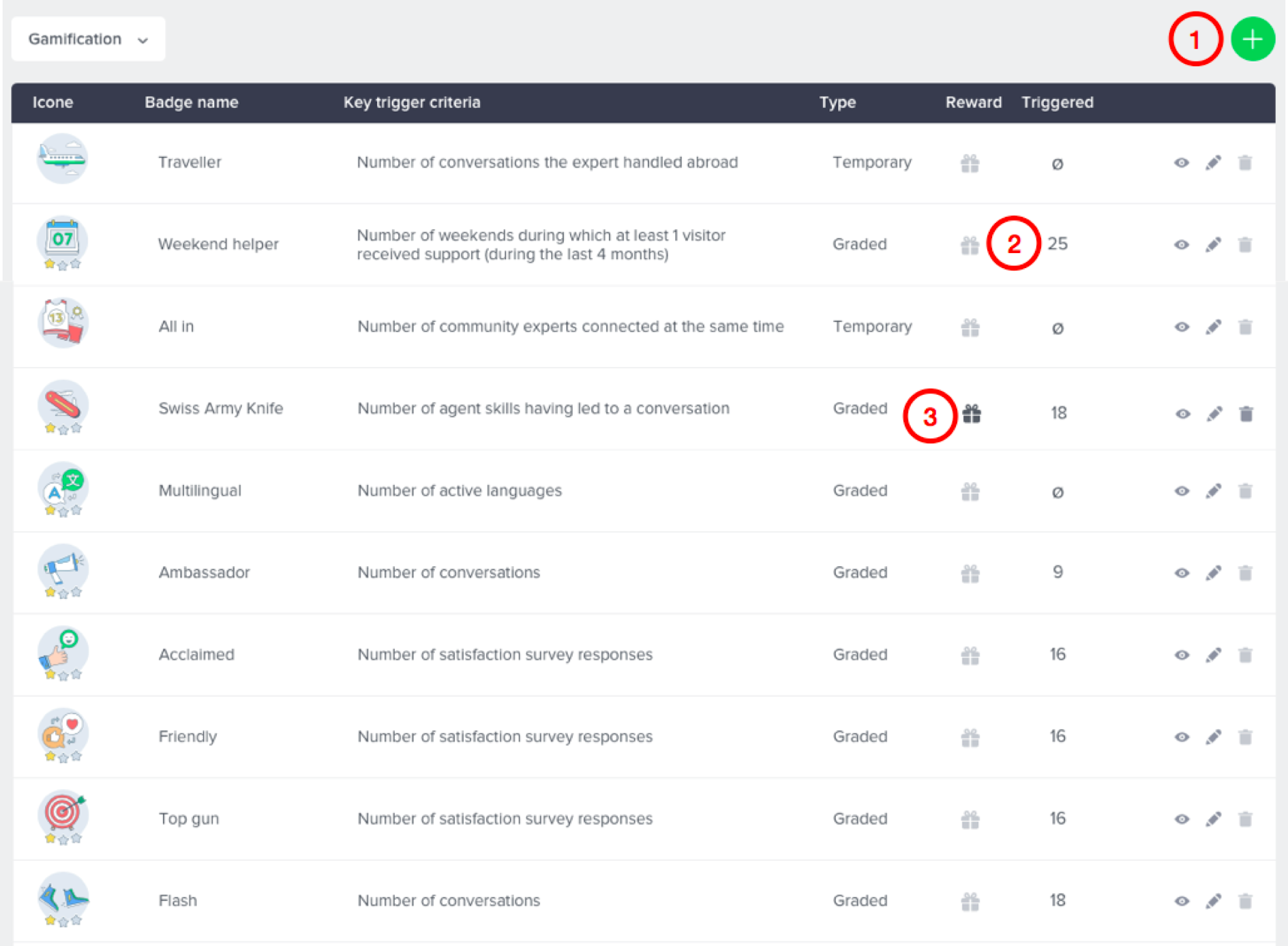 Badges by default are not editable, even though you can associate it with rewards. Only the badges you created are entirely customizable.
Note: to know which ambassadors could unlock badges to eventually get in touch with them, please approach your iAdvize team.
5. Create your own badge
Creating your own badges enables you to engage and stimulate your community according to your brand colours and wording, as per indicators matching your goals.
Once you clicked on the green "+" button on the top right corner of the list: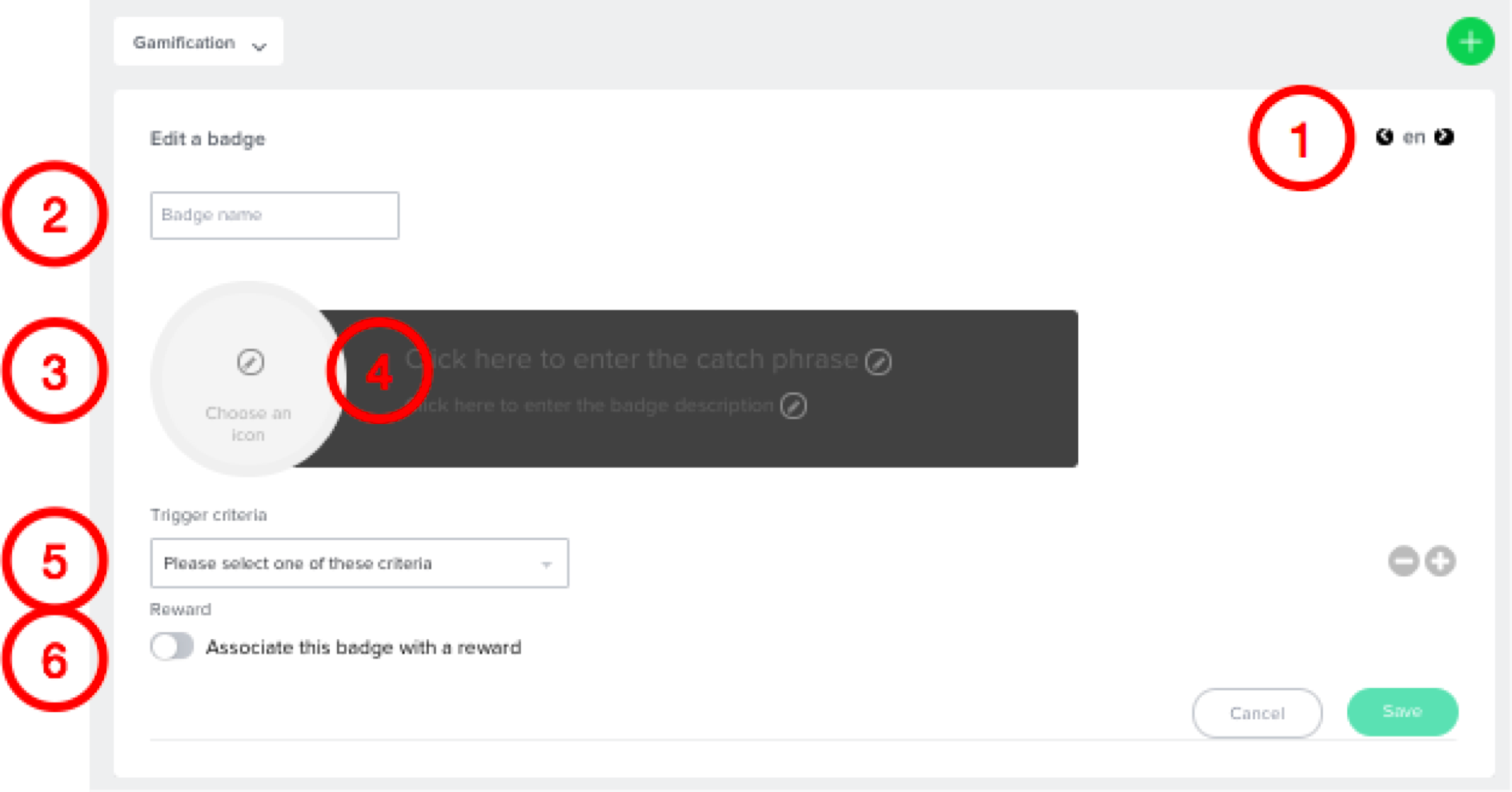 (1) Manage the localization of your badges and translate them into another language.
(2) Enter the name of your badge.
(3) Design your badge: pick a background colour and the icon that suits you among those we offer you.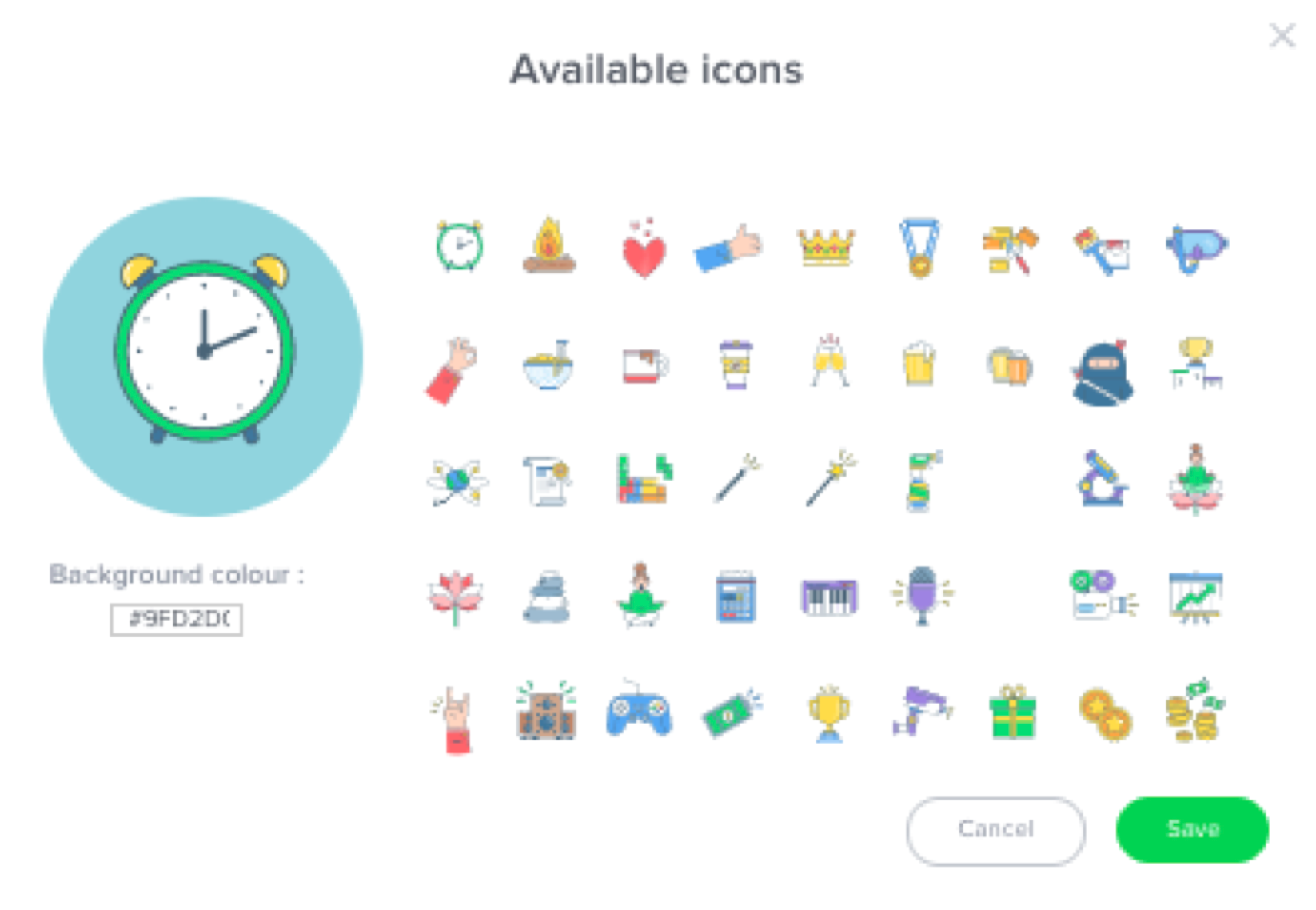 (4) Enter a catchy title and a description.
(5) Pick your trigger criteria among about 20 indicators involving productivity, quality, seniority or commitment.
Note:
In order to design a long-term progression-based journey, you can integrate some badges into your trigger criteria. However, for a better experience, we recommend you to only include badges you created into the journey.
Important as well, for the criterion "Average 1st response time", take into account the duration has to be specifically set up: for instance, if you want to include a 40-seconds duration, divide 40 by 60, and enter the result "0.6" instead of 40.
(6) Associate a badge with a reward! Your ambassadors will be delighted to get a voucher or to be invited to one of your events. Refer to the next paragraph to get into details.
6. Associate a badge with a reward
Regardless of the badge's type, by default or customized, you have the possibility to associate a badge with a reward. It enables you to recognize the ambassadors' commitment according to criteria matching your expectations and goals.
For this purpose, you will need to click on the "Edit" pictogram. Once the badge was associated with a reward, the "reward" icon symbolized by a present will be highlighted in the list: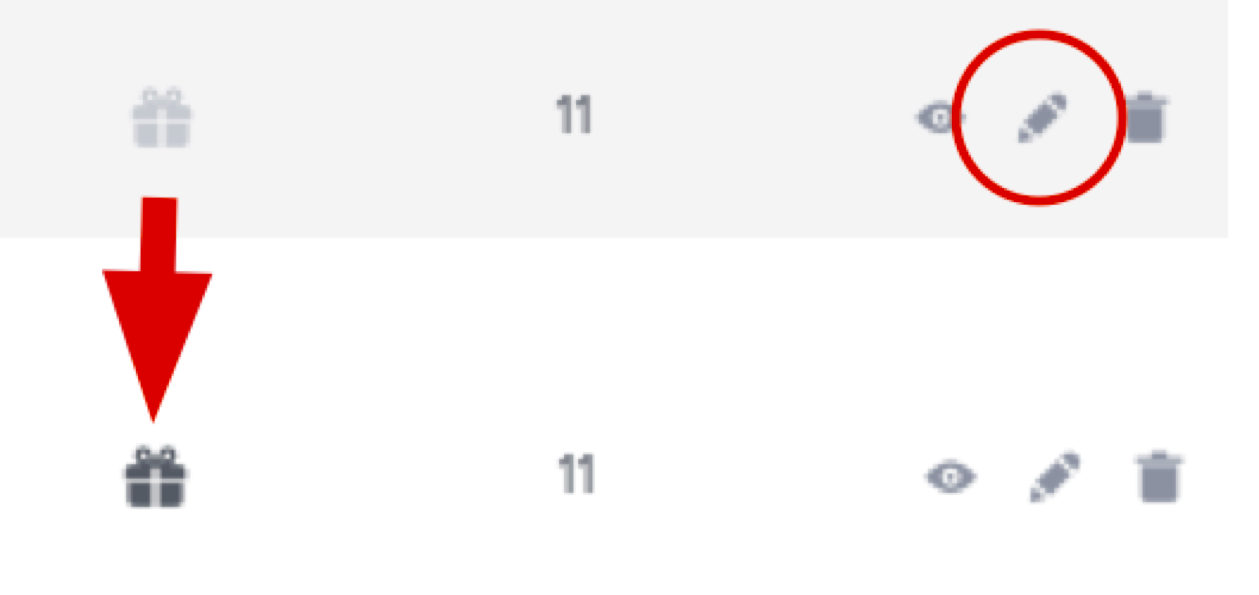 Once you selected the badge you want to edit:
Activate the reward association (1).
Give the reward a title and a description (2).
Insert a promotional code or invite the ambassadors who unlocked the badge to visit a specific page (3).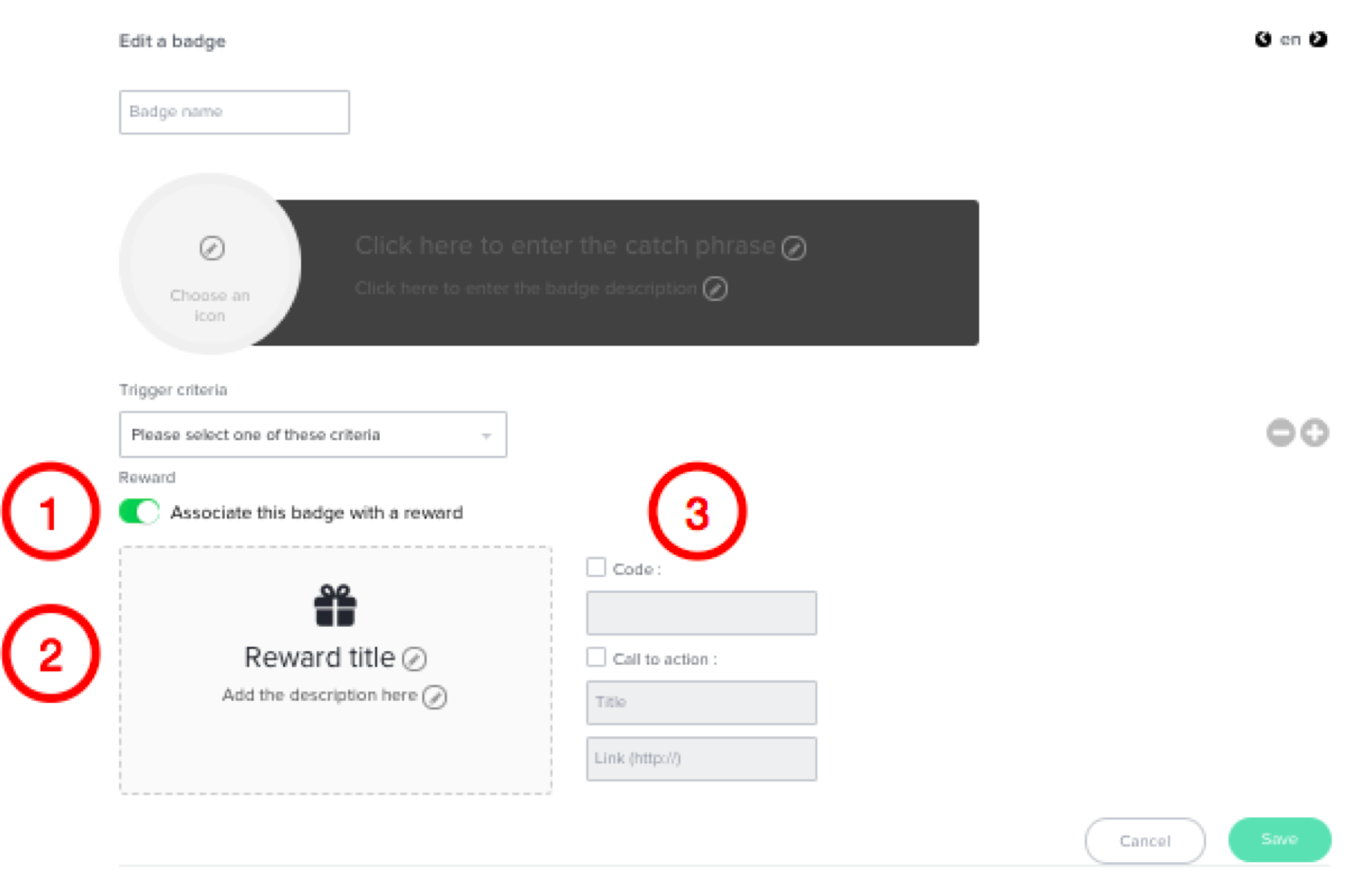 7. Ambassadors-side?
As soon as the ambassadors unlocked a badge, they are notified thanks to a pop-up on their discussion panel.
They also have permanent access to all the badges they could unlock until then directly on their profile. A simple rollover on each badge allows them to visualize its description.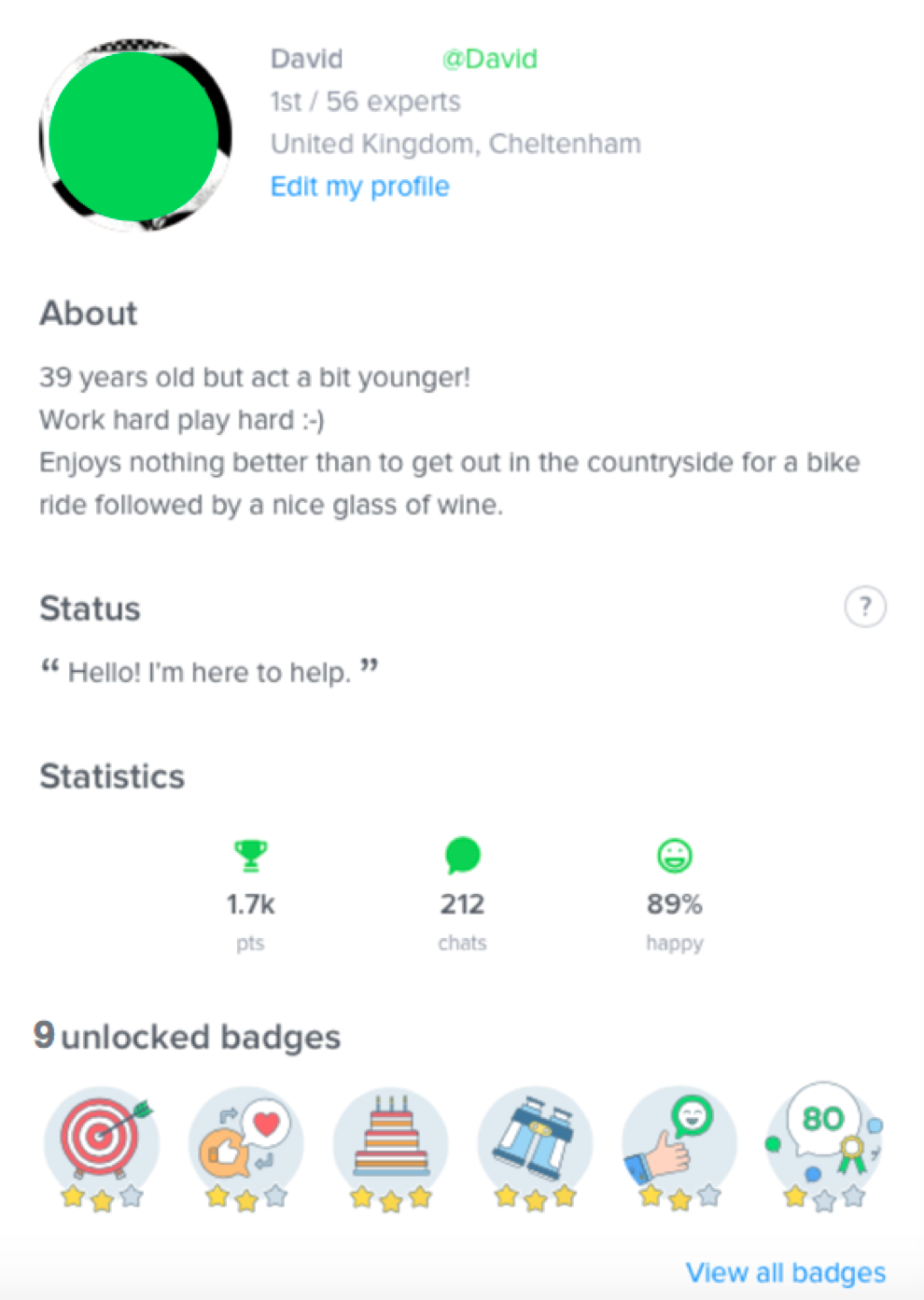 Clicking on another ambassador's profile allows them to see which badges were unlocked.