As agents, you can share all types of images and pdf documents in a conversation (chat) and via Messenger.
Once the file is shared, visitors can access it from their conversation history, the administration or the discussion panel.
Technical requirement: Using the file sharing tool requires opening the domain *.amazonaws.com on your network

1/ Supported file formats

The file formats currently supported are:
PDF documents
All types of images (jpeg, png, gif, except .svg)
There is a 30 MB size limit for all files you share. If you send a file that is too large, you will be notified through an error message.

2/ Security

iAdvize scans each file shared in a conversation to detect the presence of any viruses. If a virus is detected during the scan, it is removed from the servers before the visitor can access it.
The file is stored on a private bucket, and it is only accessible through a pre-signed link activated for one hour. Once this link has expired it is only possible to access it while being authenticated to the iAdvize administration, and also only if the authenticated user and the files are associated to the same website.


3/ How can you share files ?
Select the file(s) you want to share by clicking on the paperclip icon:

Or by directly dropping the file in the text zone of the chat conversation: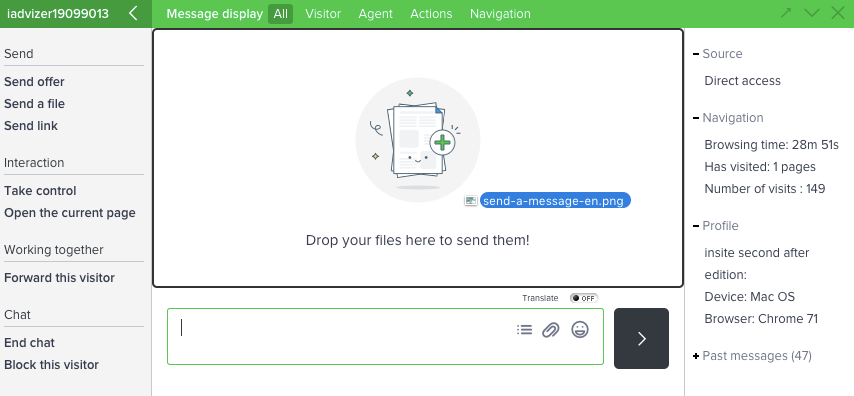 Once the file is downloaded, a preview of the image or the name of the pdf document with an icon will be available in the conversation. Your online visitors will have the same preview of the image as soon as they receive the file.


Here is the display on the conversation panel, when sharing an image: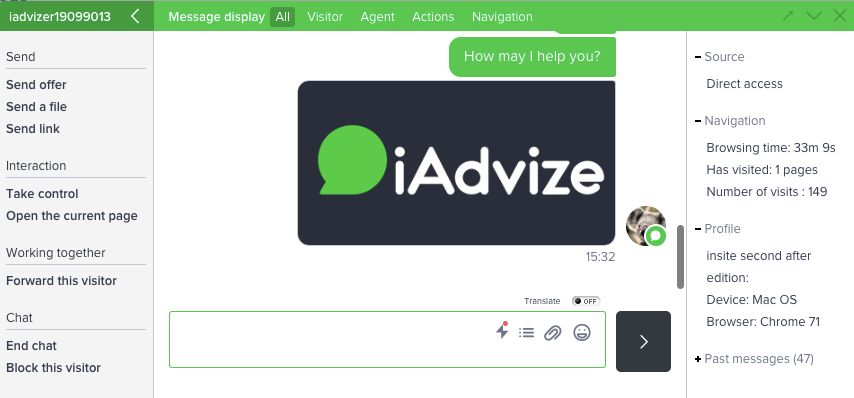 And when sharing a PDF: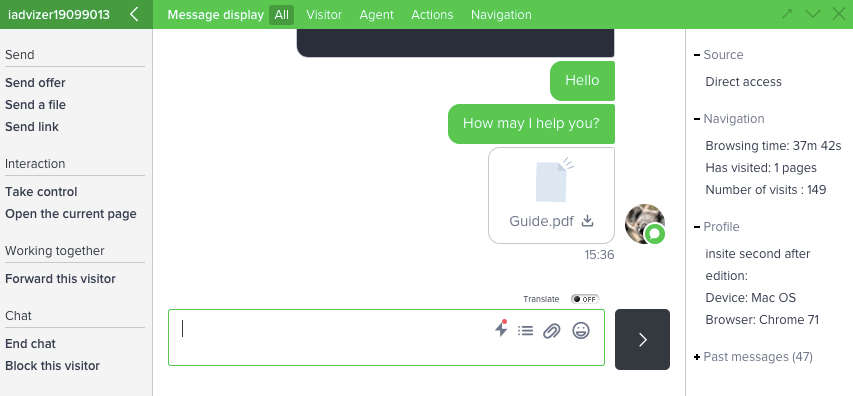 Here is the display on the visitor side (the display could be different depending on your chat template):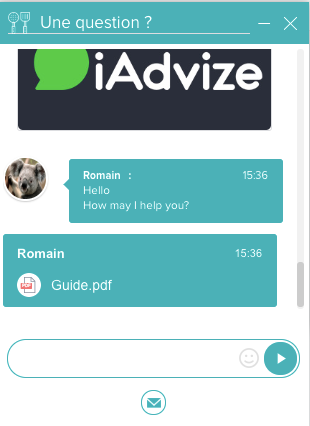 Note:
- An antivirus scan is launched automatically with each upload to secure file sharing.
- Sharing files (images and PDF) is also possible on Messenger.
4/ File sharing from the visitors side

Your visitors can also share files in a conversation. However, this possibility is optional on the chat, call and video channels.You are free to choose whether your visitors can send files to your agents or not. Do not hesitate to talk about it with your main iAdvize contact if you are interested.