This report allows you to follow how your teams handle ongoing and pending conversations, whether they are real-time conversations or come from conversation queues (= asynchronous messaging).
KPIs and statistics are updated in real-time (every 10 seconds).
In the production report, you have a global view of your conversations. Several states are differentiated :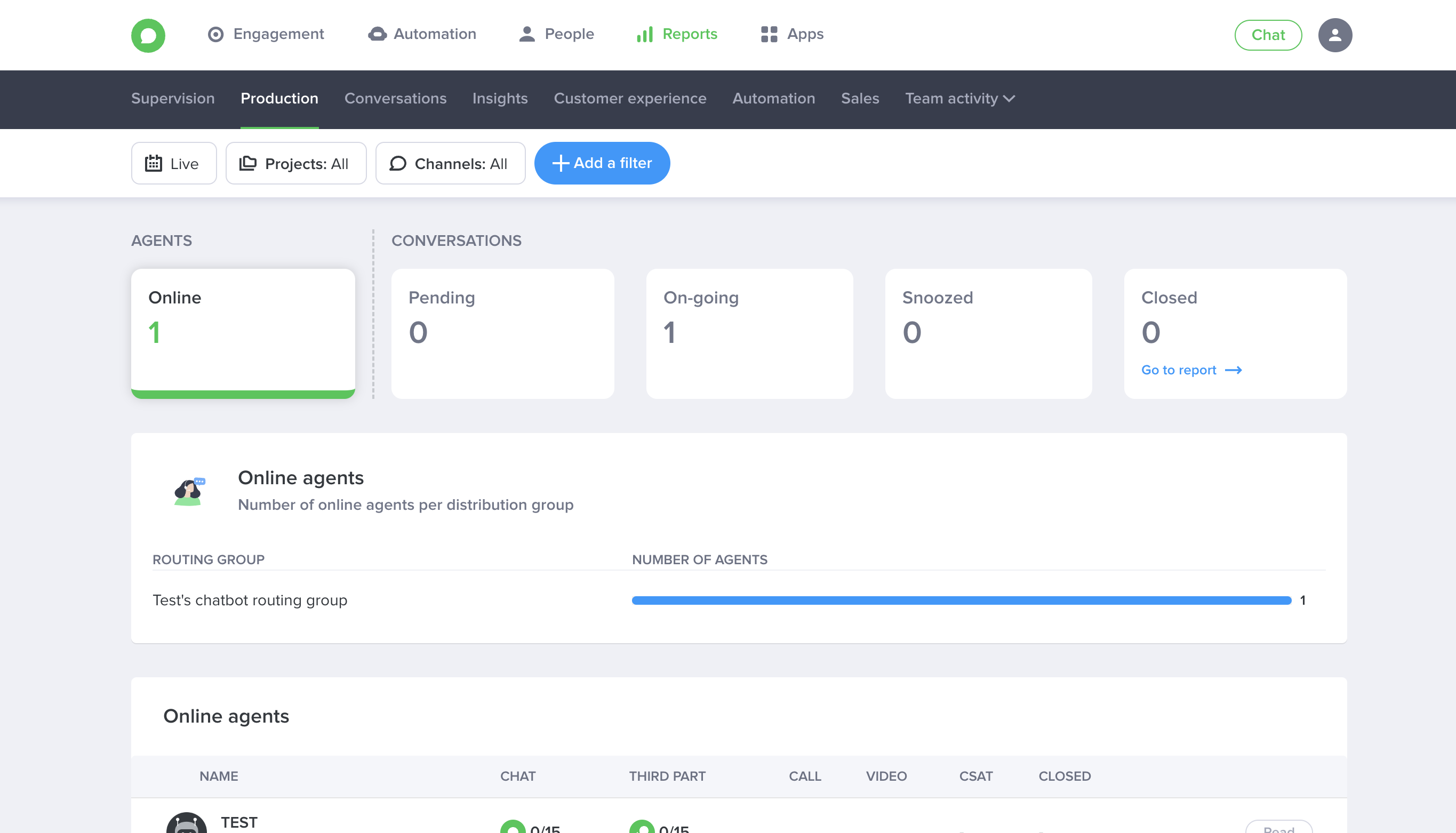 1. The pending conversations

In the pending conversations you'll find:
pending conversations that just arrived in your conversation queue, or are back there after being snoozed
the number of pending conversations, sorted by distribution group
the maximum waiting time (= waiting time of the visitor who has been in the queue for the longest time)
There are several actions or situations that sometimes cause the number of places in the conversation queue to be exceeded:
The snooze: Agents snoozed a conversation that came back in pending
Transfers

: A conversation has been transferred to an already full routing rule

Visitor engagement:

Several visitors have sent a message within the same time frame, leading to a queue overflow

The transfers of bots:

A bot becomes available when at least one of the routing rules in its scenario is available. If the visitor chooses a path that takes them to an already full chat queue, the bot will transfer nevertheless to that queue.
2. The on-going conversations
 The number of on-going conversations will show you which of them are currently handled by your teams.
3. The snoozed conversations
The number of snoozed conversations will show you conversations that were snoozed by agents and haven't gone back to a conversation queue yet - they will join the conversation queue once the waiting time has expired, or when the visitor will answer.
4. Read conversations
Messages sent to agents via the supervision panel will only be visible to the agent and the manager in question. Visitors supported won't see the messages appear on their chat conversation.
4. The last meter displays your closed conversations according to the filtering of the project or channel in place.


 ☝️ Unlike the other indicators in this report which are displayed in real-time, the numbers of the closed conversations are aggregated over the day