You can also get access to some of the Zendesk tools. For example, you can create support ticket forms directly on the iAdvize administration by enabling escalation for agents.
First, log in to the iAdvize platform as an administrator and then, click on the Apps tab.
⚠

If you have implemented iAdvize on several websites, you will need to install the Zendesk app on each one of them.
Zendesk email: this is the email used to administrate the Zendesk subdomain associated with your Zendesk app.
To automatically record conversations, you just need to activate the automatic conversation recording toggle.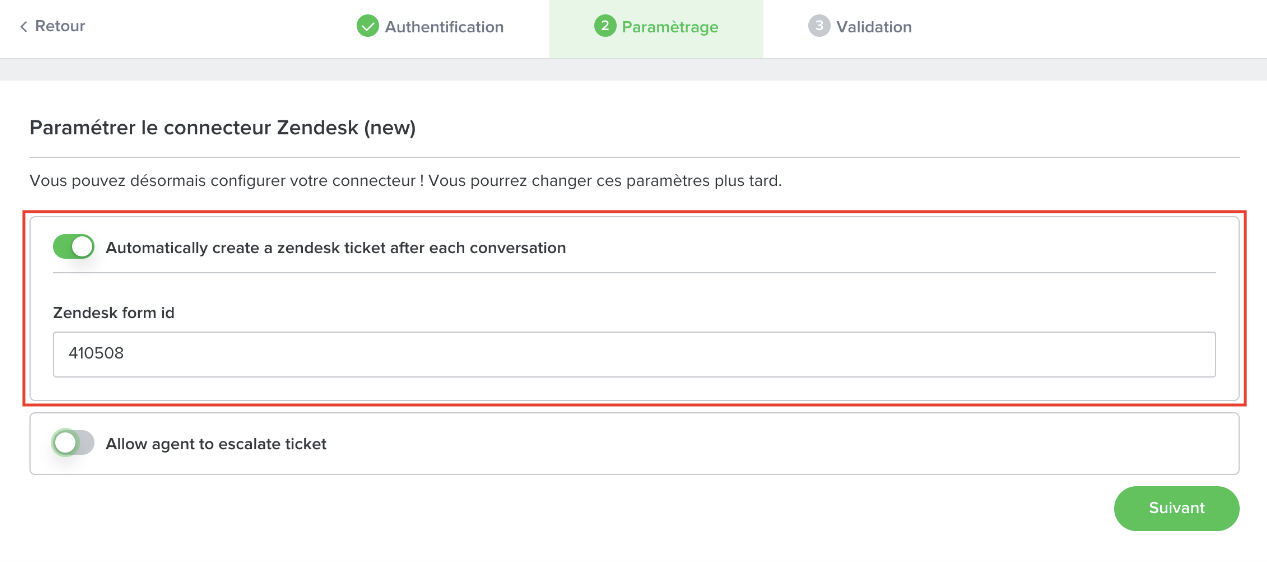 Once this option enabled, a ticket will be created after each conversation (unless an escalation ticket is created following a conversation).
A "Solved" status.
A conversation transcript is available on the ticket.
A private note containing the conversation URL and ID is available from the admin.
When the app creates a ticket, it will try to associate it with an existing Zendesk user. For this to happen, iAdvize uses the email address as a mapping key.
If no information is available about the visitor, the ticket will be assigned to an unknown Zendesk user. In this case, by default, Zendesk associates the email of the Zendesk administrator with the unknown user.
To allow your agents and/or experts to escalate a ticket, you just need to enable the escalation toggle.
There are two settings available for you to use:
When you enable escalations, an option will appear on the form displayed at the end of a conversation to allow agents to transfer the conversation:
When professional agents or ibbü experts want to transfer a ticket, they will need to check the box displayed above. Once the box checked, the ticket creation form selected in the administration will be rebuilt.
We also add a text area for the private note with a custom label if it has been configured.
Just like for automatic ticket registration, the app will attempt to associate the escalation ticket with an existing user.
Only one ticket can be recorded per conversation. Thus, if a ticket gets transferred, no additional tickets will be created even if the automatic ticket registration feature is enabled.