Thanks to iAdvize, you can customise your notifications on your own to engage with your visitors.

We released our intuitive tool "The Notification Builder" and reviewed the different templates to meet your needs and maximise your performances.
During the Beta period, an invitation to use this feature will be displayed for you to enable it.

Tip 1: as long as no new-generation notification is created, the former notification management interface will remain available. As soon as you save your first notification, the new interface will be permanently migrated.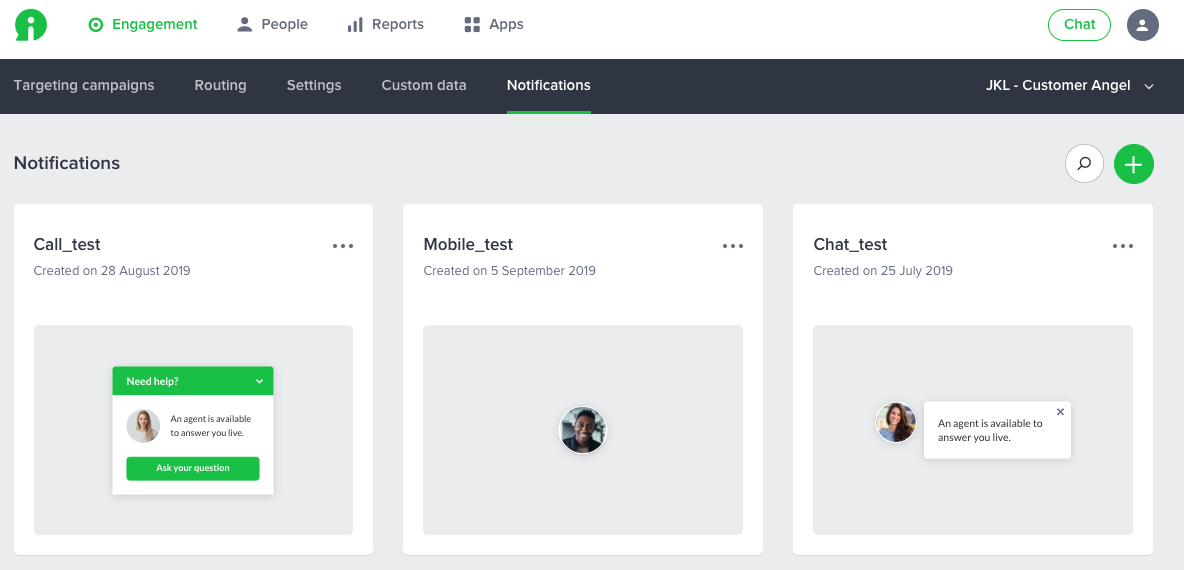 Click on "+" to create a new notification
You can provide a URL to get a preview of your website in the background during your notification customisation
Thanks to the Notification Builder, you can choose:

your template (Classic, Invitation, Messaging, Badge or fixed button)
the image to display (icon, simple or multiple avatar)
your style (colour, character font,...)
the notification position on your website
various options (reduction, closing behaviour)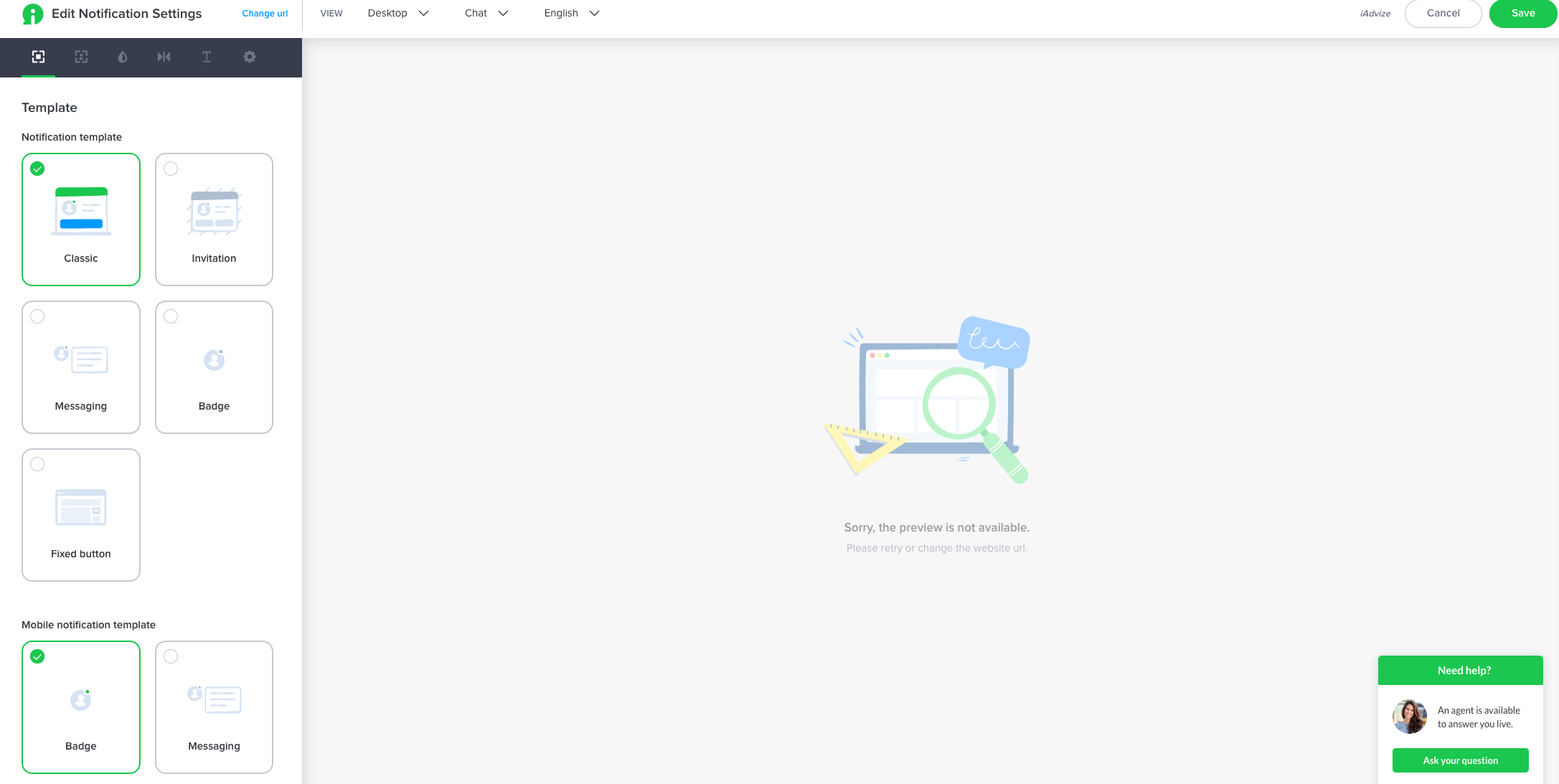 During your notification creation, your can validate the following views:

desktop or mobile views
channel used (chat, call, video, Messenger, Text Messages)
languages supported by iAdvize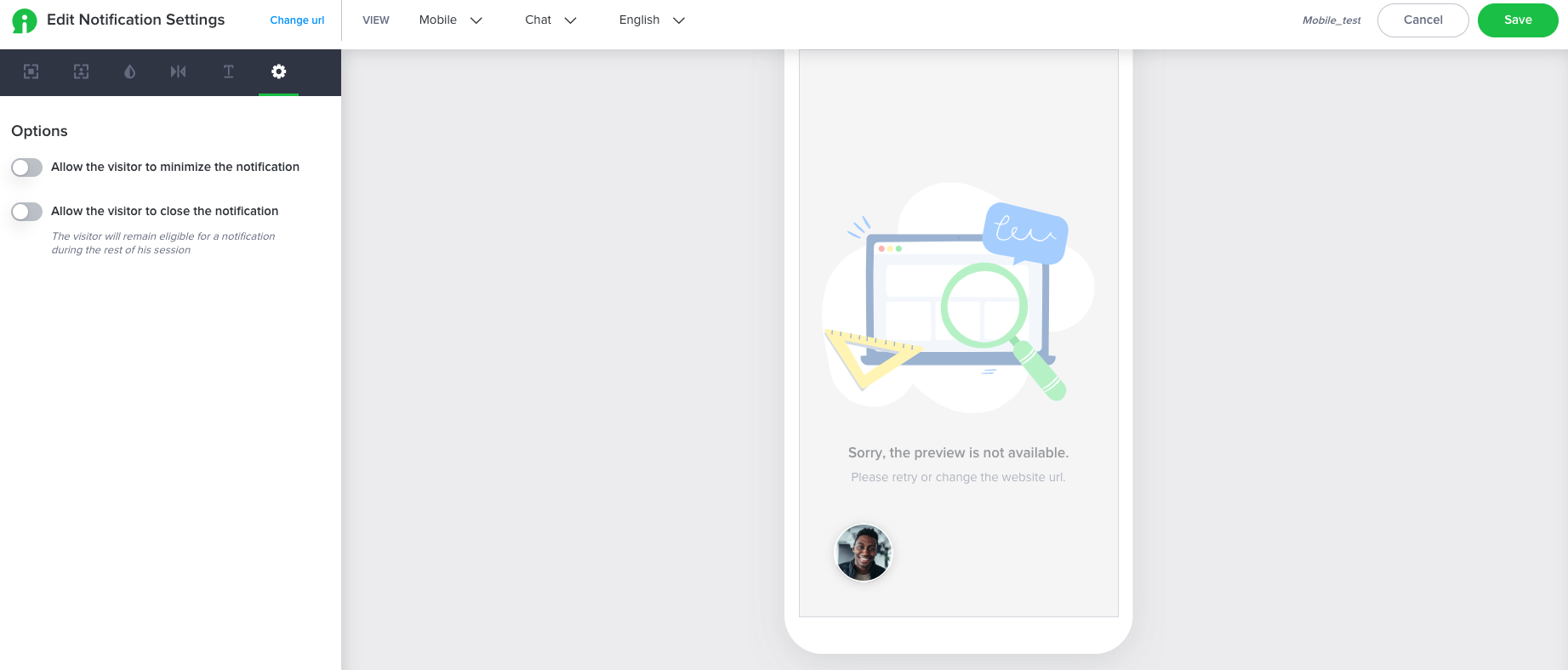 You can save your notification by clicking on "Create"
You can select a former button to replace it so you don't have to manually change all engagement rules
Find out more about the functional scope of the Notification Builder

6/ Manage your notification language
If the language is not forced in the iAdvize tag: the notification will be in the same language as your visitor's browser
If the language is forced in English (for example) in the iAdvize tag: the notification will then be displayed in English for all visitors (regardless of the language configured in the browser).
- Find out more about manage the language
7/ Message "Your replace request has failed, please try again later"
When you are at the stage of replacing the old notifications with the new ones, a message "Your replace request has failed, please try again later" may appear.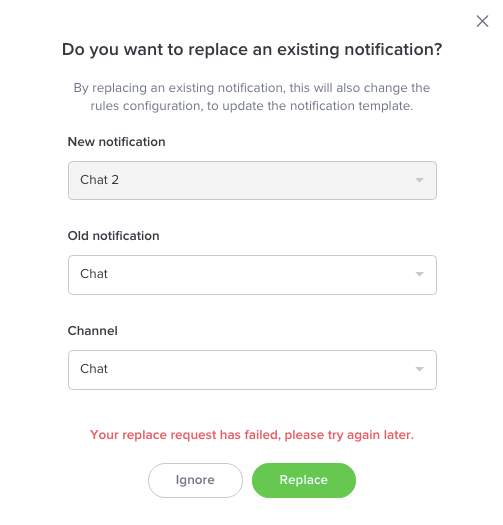 Generally, it indicates that a "fallback action" to Messenger, Twitter or SMS are configured in your targeting rules.
It is therefore necessary to manually remove these fallback actions, while replacing the notifications, and then to return them if necessary.

To do this, please go to the Engagement section, then Targeting campaigns and click on the impacted targeting rule(s).
To finalise your graphic customisation through the chatbox and ensure a consistency within your website, please read Customising my iAdvize Messenger.