Before taking these steps, please contact your iAdvize account team.
The name of your organization
The e-mail address of your website
The address of your head office
You can choose to create a test account and/or then a production account. Here we choose to create a test account, to which we give the name "Compte de test".
Once your new account is created, or if an account already exists, enter the space of the account you wish to configure.
Clicking on Connect will open a landing page shared between Apple and iAdvize. On this page, you must enter your iAdvize credentials.
Once you have entered your credentials correctly, validate.
The list of iAdvize projects for which you are administrator is displayed. Make sure you are the administrator of the project (sid) you are interested in iAdvize. To create a connection, you need access to the email associated with the account used for the connection. If you're logging in from the back office, you must choose one of the accounts that has access to the email.
Click on connect the project on which you want to connect your Apple Business Account.
Once completed, you will see your Apple Messages for Business account in iAdvize a few minutes later.
To do this, go to Engagement > Settings > Apple Messages for Business.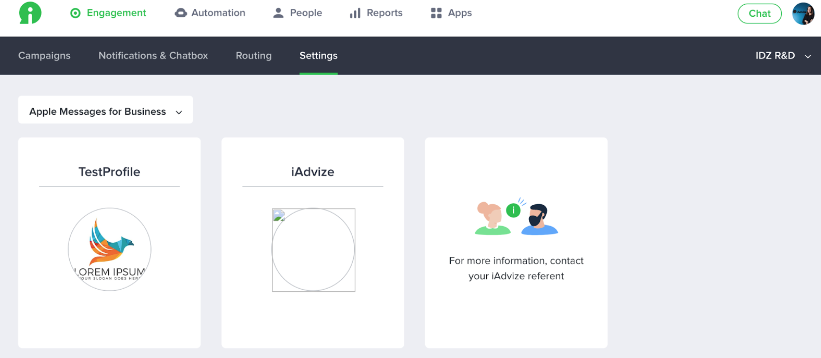 Your iAdvize project is now associated with your Apple Messages for Business account. You can proceed to the next steps.
This section allows you to customize the conversation experience your users will have.
A square version of your logo: this is the one that will be displayed in the list of your users' messages
A rectangular version of your logo: this is what will be displayed to the user in the header of the conversation
The background color of your header
The color of the buttons ("back" and "information")
This page appears to the visitor who clicks on (i) in your conversation header.
In the Brand Information Card Details section, click on Edit.
The brand name that will be displayed to the visitor
The responsiveness displayed to visitors from a list proposed by Apple
Your phone number (optional) : if it has been completed, a Call button will be displayed on your card
The url of your website (optional) : if it has been filled, a Website button will be displayed on your map
Your industry: You can select multiple industries from the list provided by Apple.
In the Live Agent Response Hours section, you can select your Time Zone as well as your days and hours of operation.
Your account has been approved ? Congratulations !
Your iAdvize account team will help you to add this channel in the solution and build the messaging experience you want to offer to your visitors.