An automated flow is a way to automate a series of action to save time for you and your team. The first automated flow available on iAdvize allows you to set the criteria and the way you ask your visitors for their email address. It is particularly useful in the context of an asynchronous conversation, but can have other applications.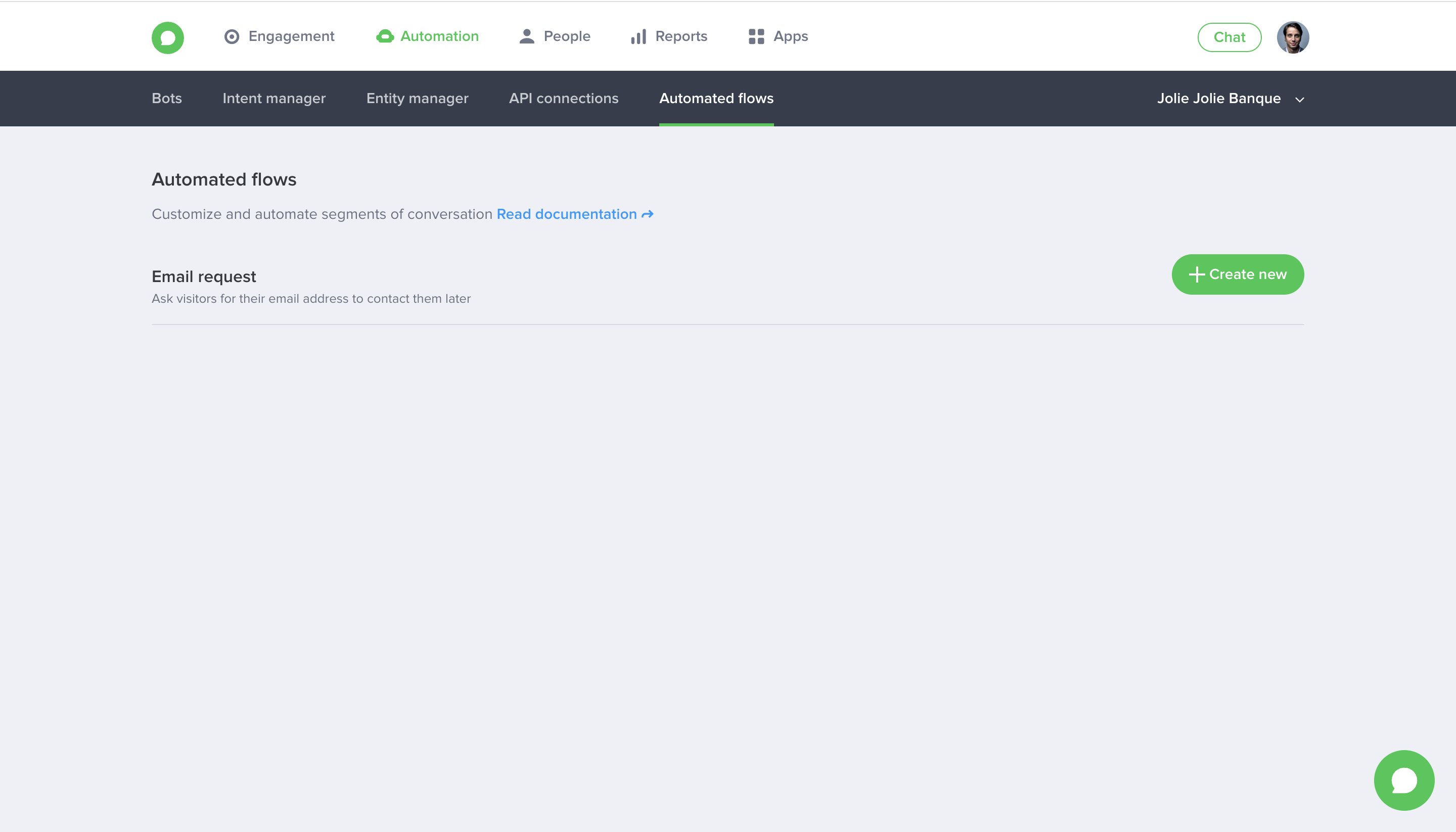 1. What is the use of an email request automated flow?
1.1 Context
Previously, in an asynchronous conversation (= when visitors have to wait for a respondent to be available to answer them, which is possible as soon as a conversation queue is activated), your visitors had to give you their email address in order to start the conversation. This was true whether or not respondents were available, which could lead them to drop off the conversation before it had even started. The new automated email request flow now allows you to choose if and how you ask visitors for their email address in an asynchronous conversation.
1.2 Benefits
The email request automated flow offers you more personalization, and therefore flexibility in this context: 
there is no obligation to activate it. Thus, your visitors can

start an asynchronous conversation without giving their email address

(on the other hand, they will only find your answer when they come back to your site, since they will not receive an email notification).

you can

adjust the trigger time.

This allows you, for example, to let visitors

initiate the conversation

by asking their questions, and,

if no respondent is available after a given time

(e.g. 45 seconds), to offer to contact them again to save them time. Thus, visitors are only invited to leave their email addresses if they are really waiting for an answer. 

you can also

specify the criteria for triggering

the email request according to the relevant business hours, targeting rule, and routing rule.

you can

customize the request messages

to match your brand universe, or want to specify to your visitors how their request will be handled. 

as you can create

as many email request automated flows as you like,

you can also

modulate the customer experience

according to your teams or channels (e.g. favoring asynchronous usage on a care campaign, insisting on a quick response on a sales campaign)
NB: The trigger time (to be distinguished from the estimated waiting time) corresponds to the duration during which visitors wait for a response, before the email request is displayed to them. It is a minimum of 5 seconds (it is therefore not possible to use this automated flow in the context of a "synchronous" conversation, without a queue).
1.3 Example: use your automated email request flows to play on working hours
Let's take the example of a company called Jolly bank. Offering a large number of online services and subscriptions, Jolly bank has many agents who use iAdvize to advise its customers and prospects during business hours.
To optimize the processing of conversations, the person in charge of iAdvize has chosen to activate the waiting queues. As a very large number of agents are active on iAdvize, visitors who find themselves "on hold" in the queue hardly notice it, because the wait is on average from 30 seconds to one minute, which is considered satisfactory. Except in the case of large crowds, it is often not necessary to retrieve their email address.
In the evening, however, the Jolly bank teams are much more limited. On the other hand, visitors, who are more available, are more numerous and are likely to wait much longer to speak to an agent. It is therefore much more relevant to collect their email address in order to contact them later, rather than making them wait too long! 
With the launch of email request automated flows, the person in charge of iAdvize at Jolly Bank decided to create two of them: 
an email request automated flow

for business hours

(when visitors wait very little), which will be triggered

only if the wait is abnormally long.

an email request automated flow

for non-working hours

(when visitors are likely to wait a very long time and would benefit from being contacted again), which will be triggered

more quickly.
Thus, whatever the time of day, Jolly bank visitors will benefit from the most efficient conversation experience possible for the teams involved.
2. How to create an email request automated flow?
2.1 Create an email request automated flow
In our example, we will create the second automated email request flow of Jolly bank dedicated to non-business hours.
Go to the

Automation

section and then to

Automated Flows.
In the "Email Request" part, click on the "Create new" button.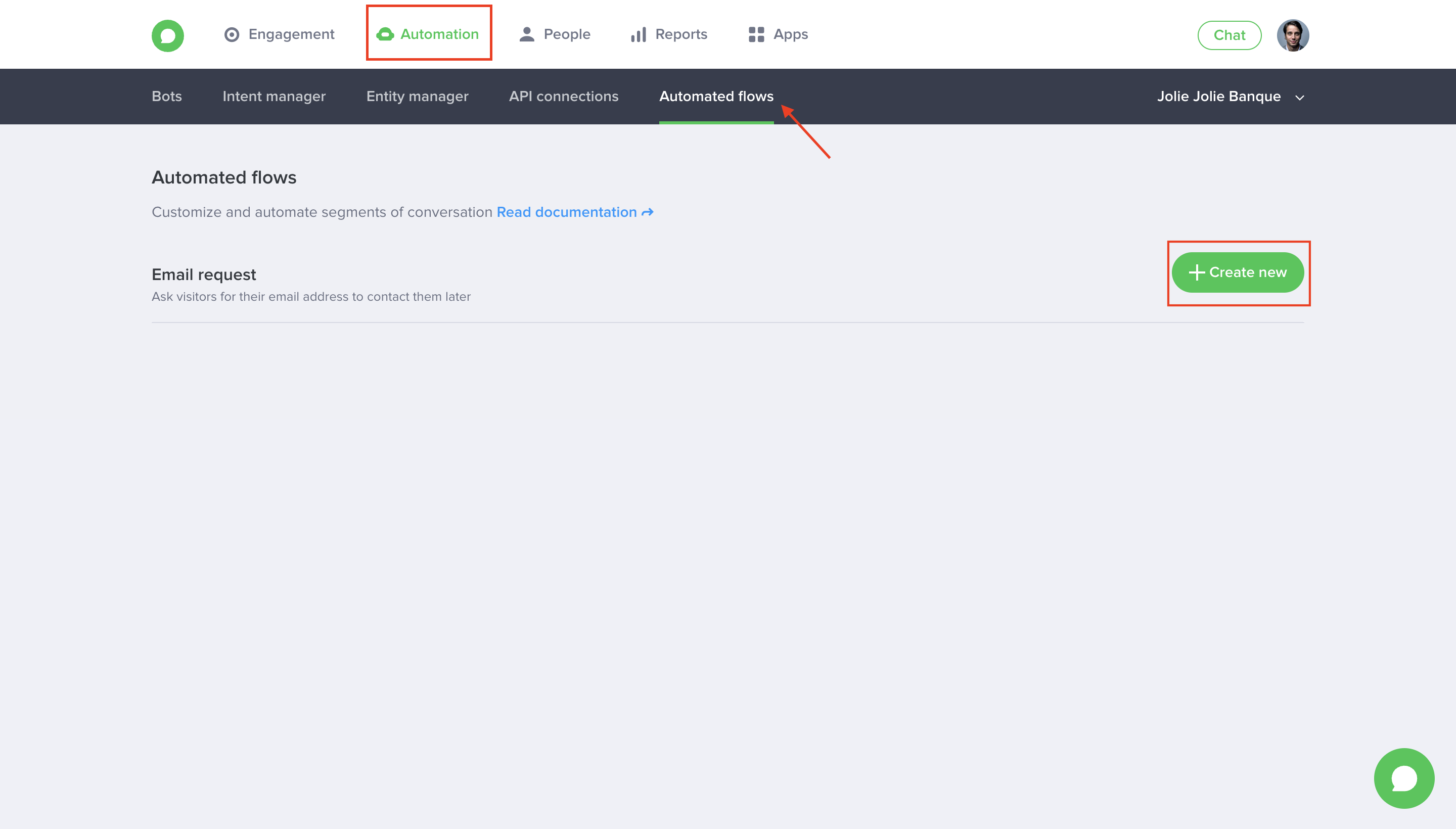 Name your new email request. This name will only be visible to your teams. Here, we give it an explicit name: "Quick request - non working hours".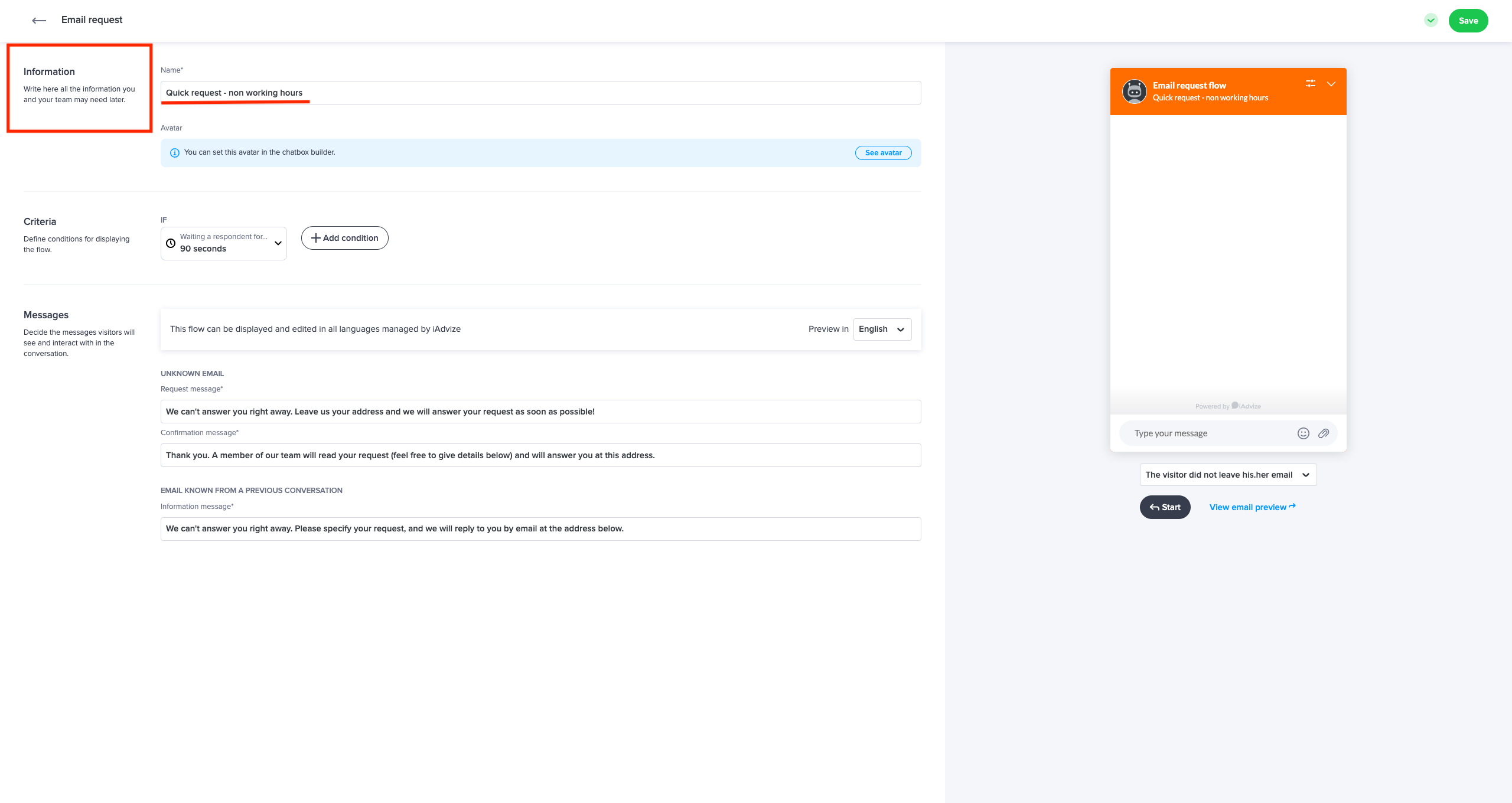 The avatar that will be displayed to your visitors is a generic avatar used for all automated flows. You can view it or modify it by going to the chatbox builder, by clicking on the link proposed to you.

Define the display criteria for the email request. You can define several criteria that can be added together:

the trigger time is the only essential criteria. In the case of our example, Jolly bank chose a very short delay (25 seconds), because the company knows that few respondents will be available and does not want to keep its visitors waiting too long.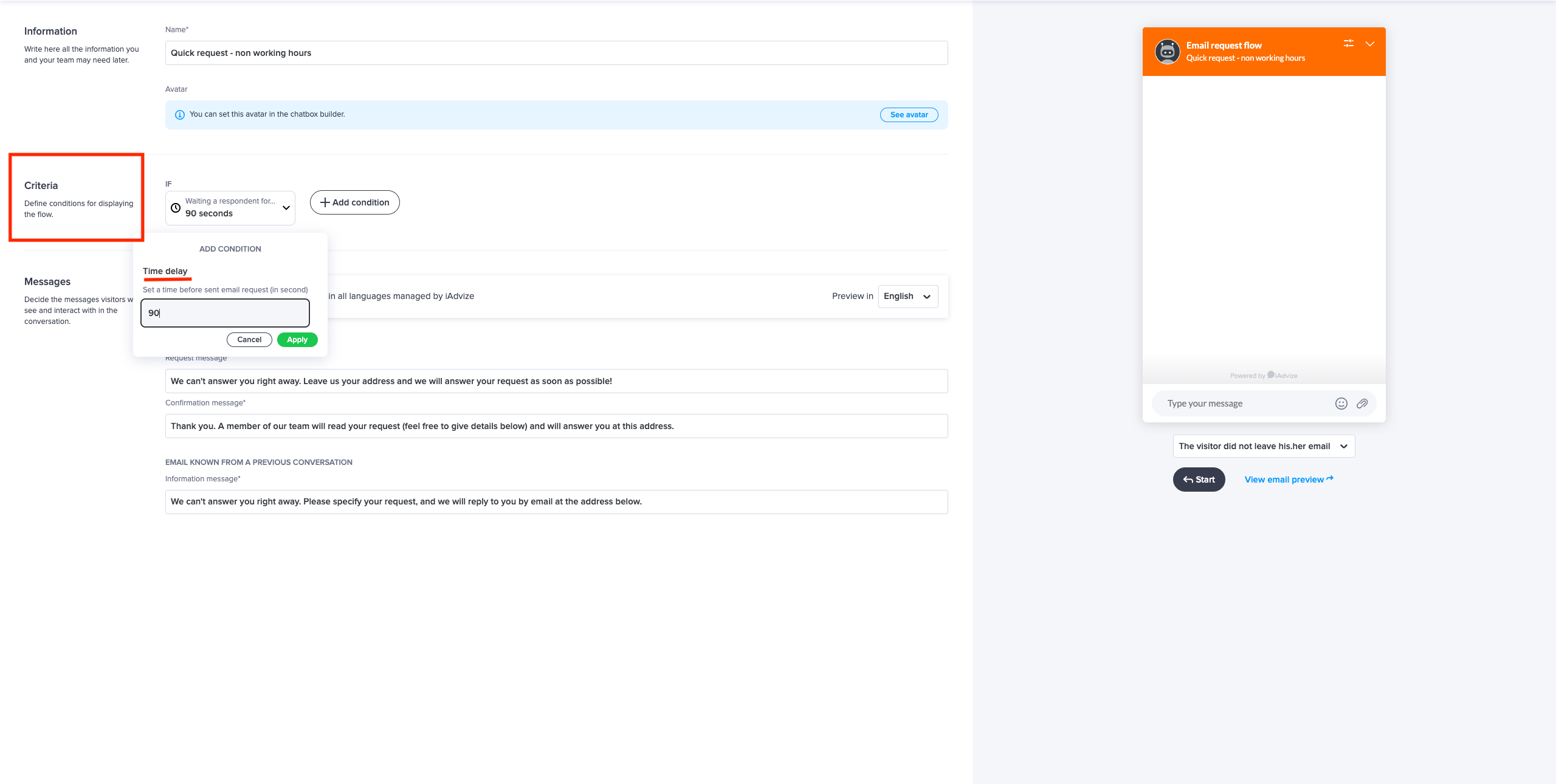 the business hours (whether it's during business hours or not)

- if not set, the email request will be triggered at any time. Here, Jolly bank chooses non-working hours, as this is what it needs for this email request.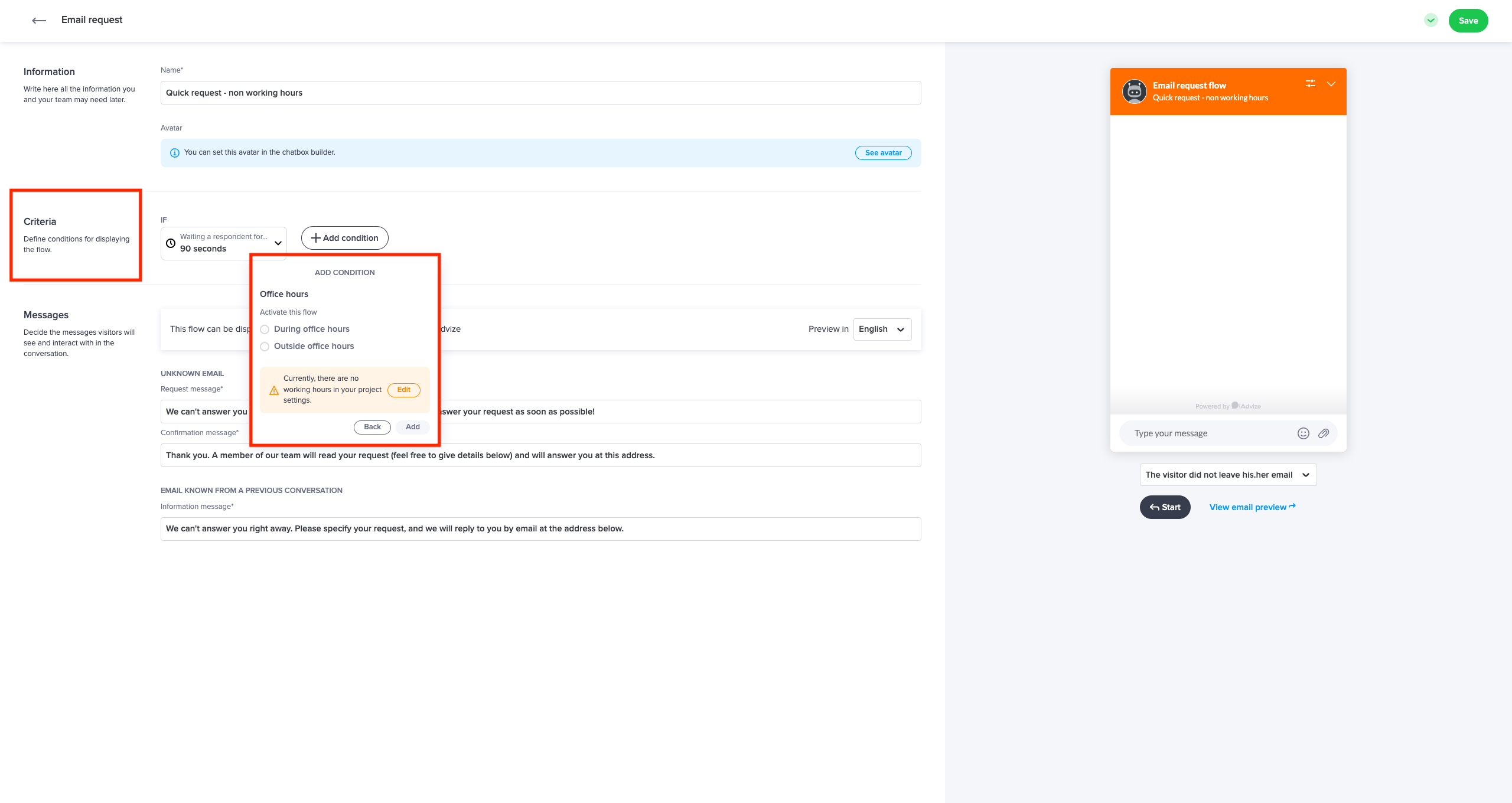 the relevant targeting rules

- if these are not defined, the email request will be triggered for all targeting rules. As Jolly bank's problem is structured by its working and non-working hours, we do not choose a specific rule for our example. 
the relevant routing rules - if these are not defined, the email request will be triggered for all routing rules. This criteria is also not relevant to our example, so we do not choose one.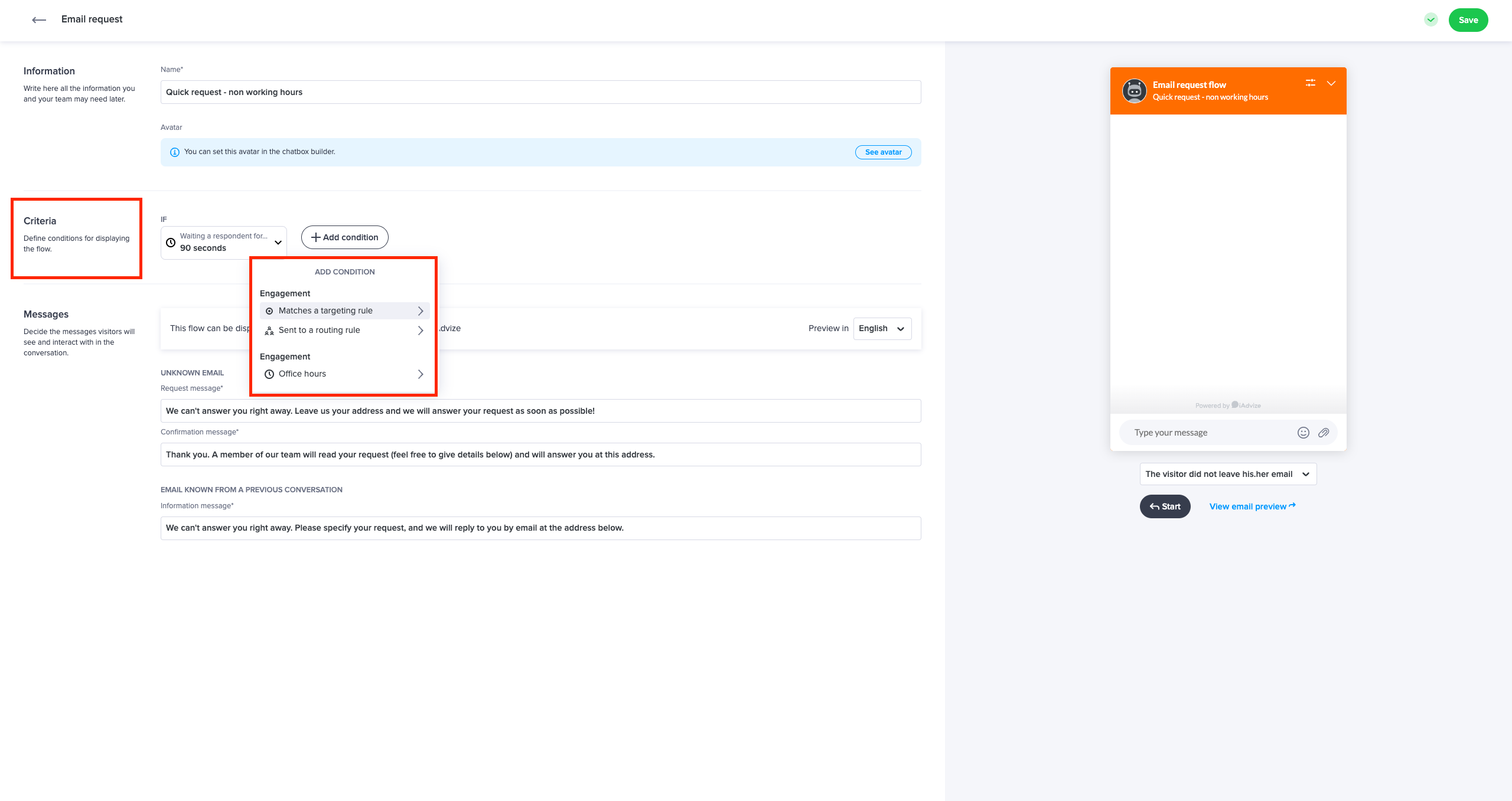 Customize the messages

that will be displayed to visitors in the fields provided.

Two cases are possible:  
If the email address is not known to Jolly bank, a request message will be displayed, such as: "We can't answer you right away. Leave us your address and we will answer your request as soon as possible!". Once visitors have entered their address, this message will be followed by a confirmation message, such as: "Thank you. A member of our team will read your request (feel free to give details below) and will answer you at this address."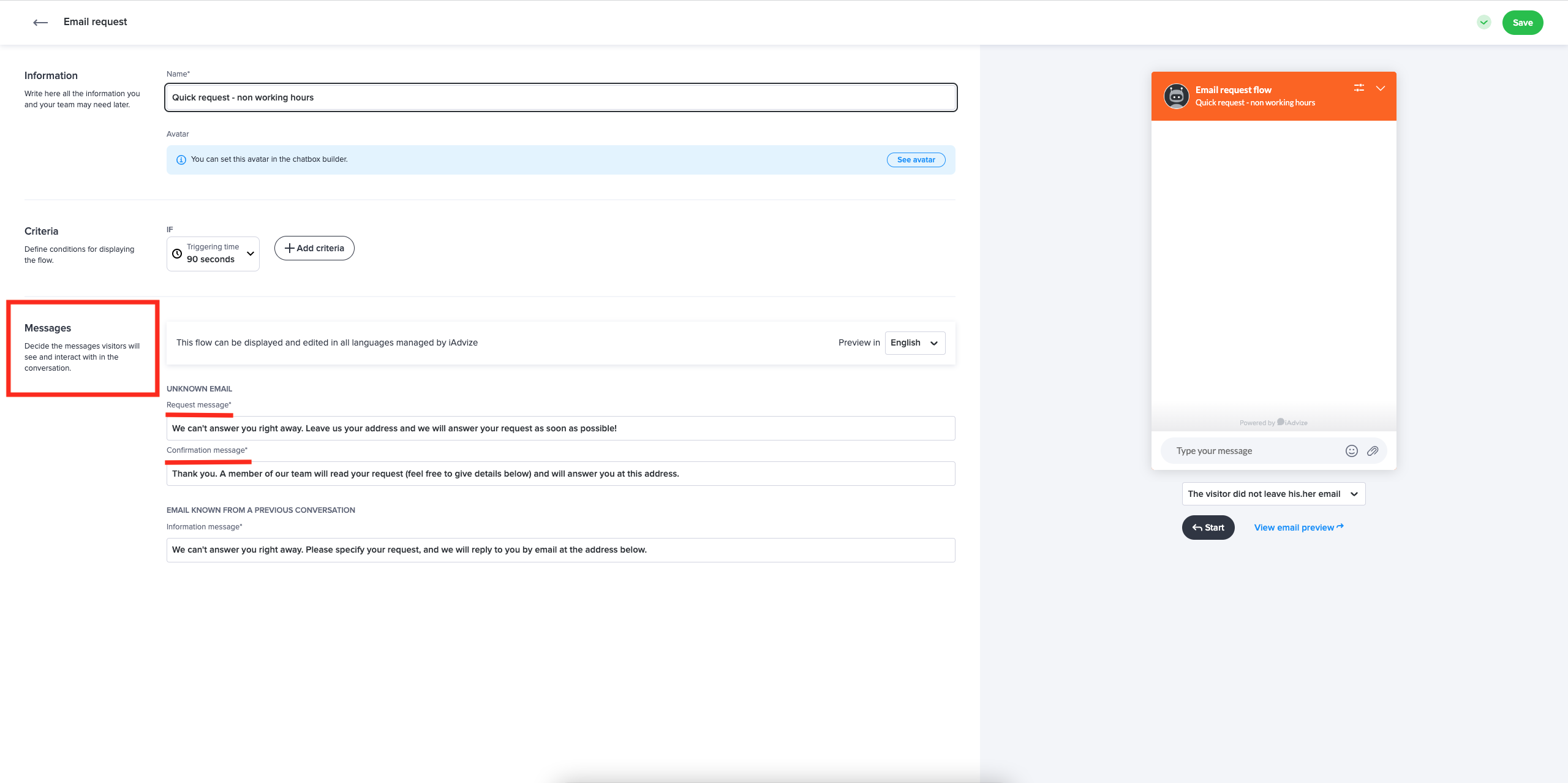 If the email address is already known to Jolly bank

through a past conversation, 

Visitors will receive an information message such as "We can't answer you right away. Please specify your request, and we will reply to you by email at the address below." If they wish, visitors will be able to change the address displayed.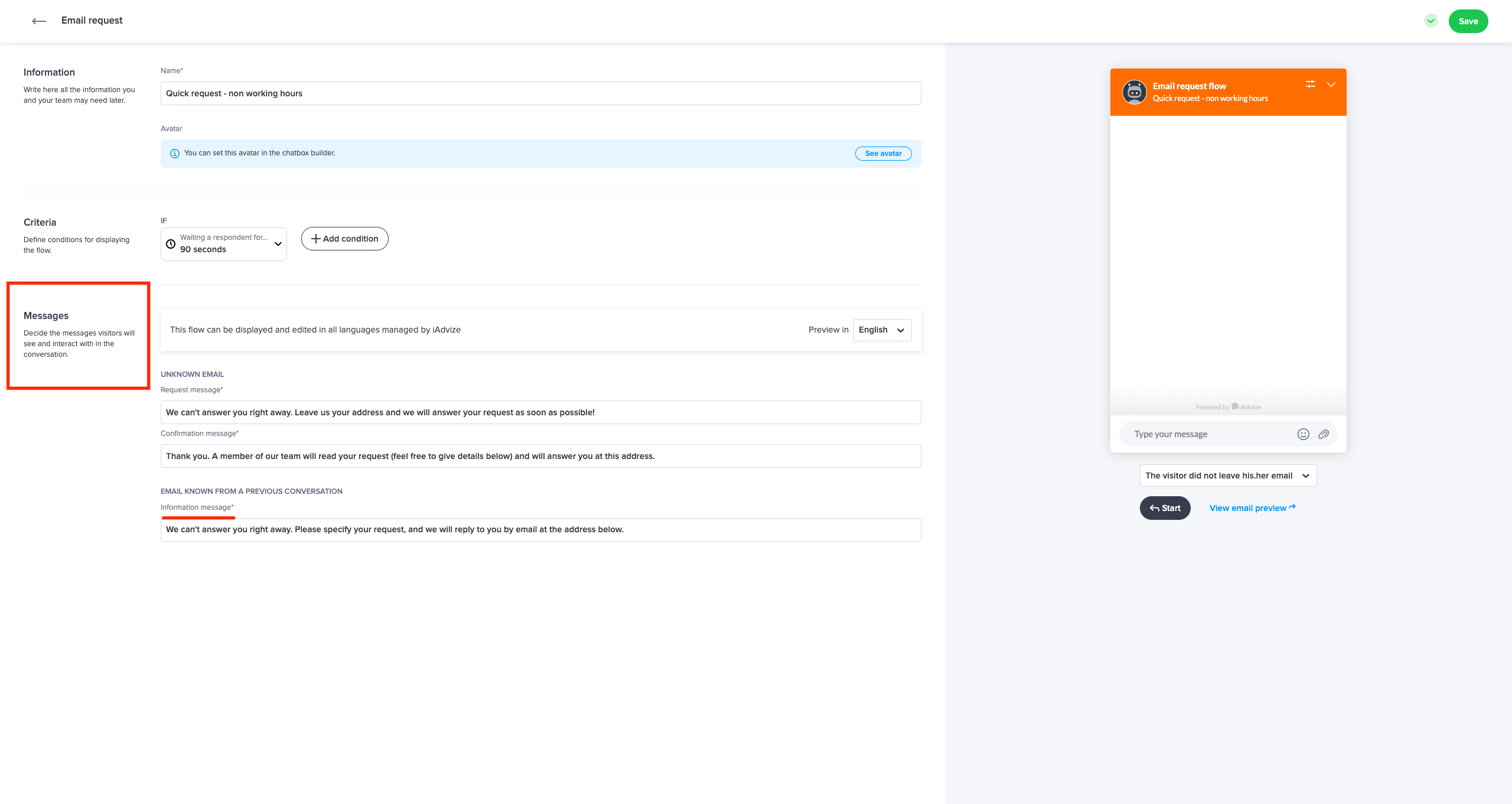 Once you have set up your automated email request flow, you can preview it in the preview window on the right by clicking on the "Start" button.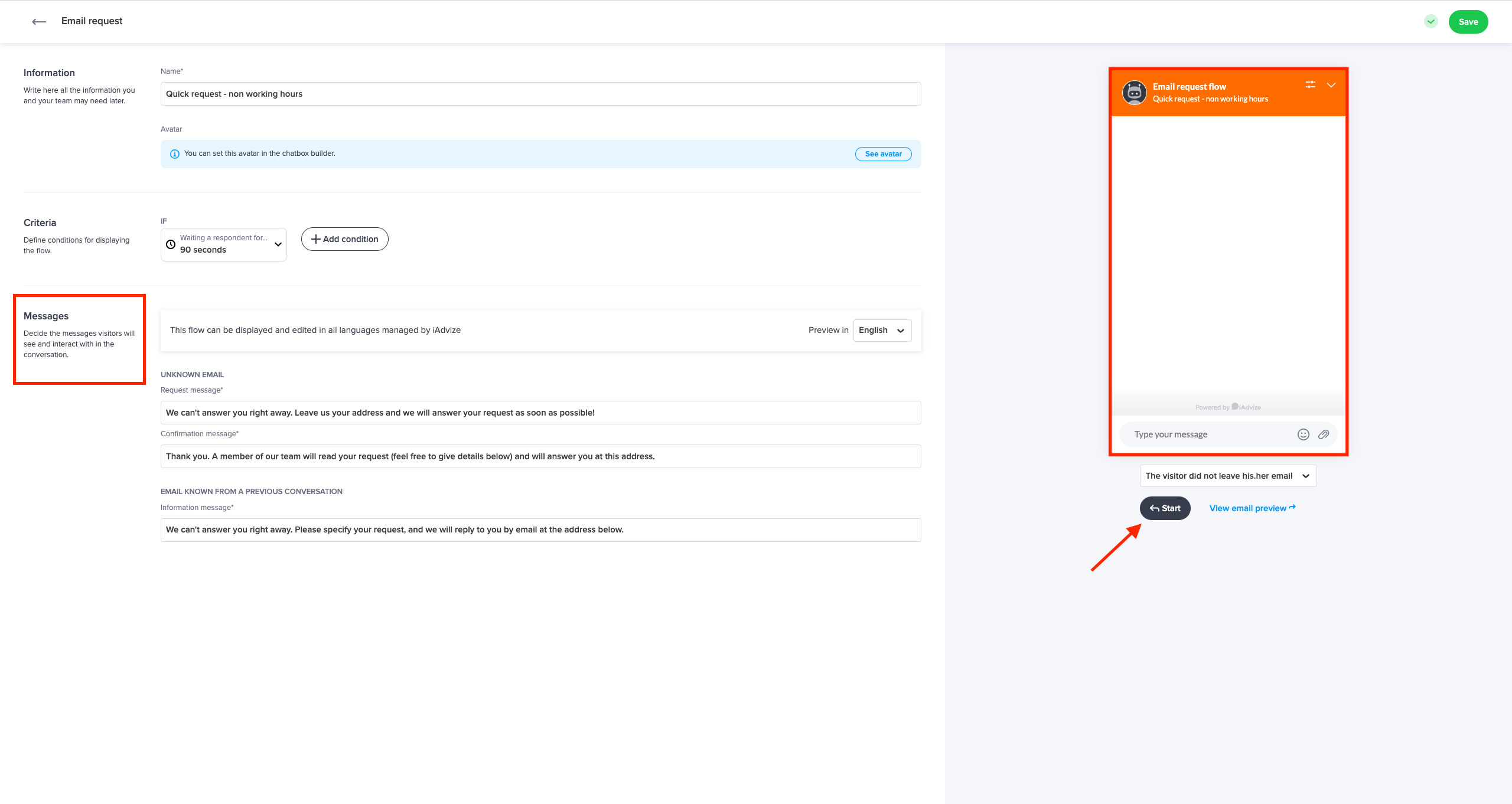 If you wish to see or modify the notification email

that will be sent to visitors, you can click on the link "View email preview" to access the

chatbox builder.

Once your flow has been set, click on the  "Save" button at the top right.