Copilot is a powerful generative artificial intelligence tool designed to assist your agents directly within their conversation dashboard. With Copilot, your agents can swiftly access information, receive ready-to-use responses, and enhance the style of their replies. This article provides a detailed overview of Copilot's functionalities and instructions on how to activate it.
As Copilot is currently in beta, please reach out to your usual contact to enable it.
Principle
Copilot harnesses generative AI to make things easier for your respondents
the term "generative" refers to its capability to autonomously generate responses based on visitors' questions and available information
you have full control over its activation and the information it possesses by configuring an AI Knowledge, which serves as its information source
thanks to Copilot, respondents can quickly and effortlessly find the information they need to respond to visitors, often with remarkable precision, resulting in time and efficiency gains
furthermore, the writing quality of responses is enhanced through assistance with spelling, grammar, and composition.
Within the Conversation panel
Once Copilot is activated and an AI Knowledge is set up, it will appear both below the main text input field and as a widget in the toolbar, expandable in the right-side panel.
In the Right-Side Panel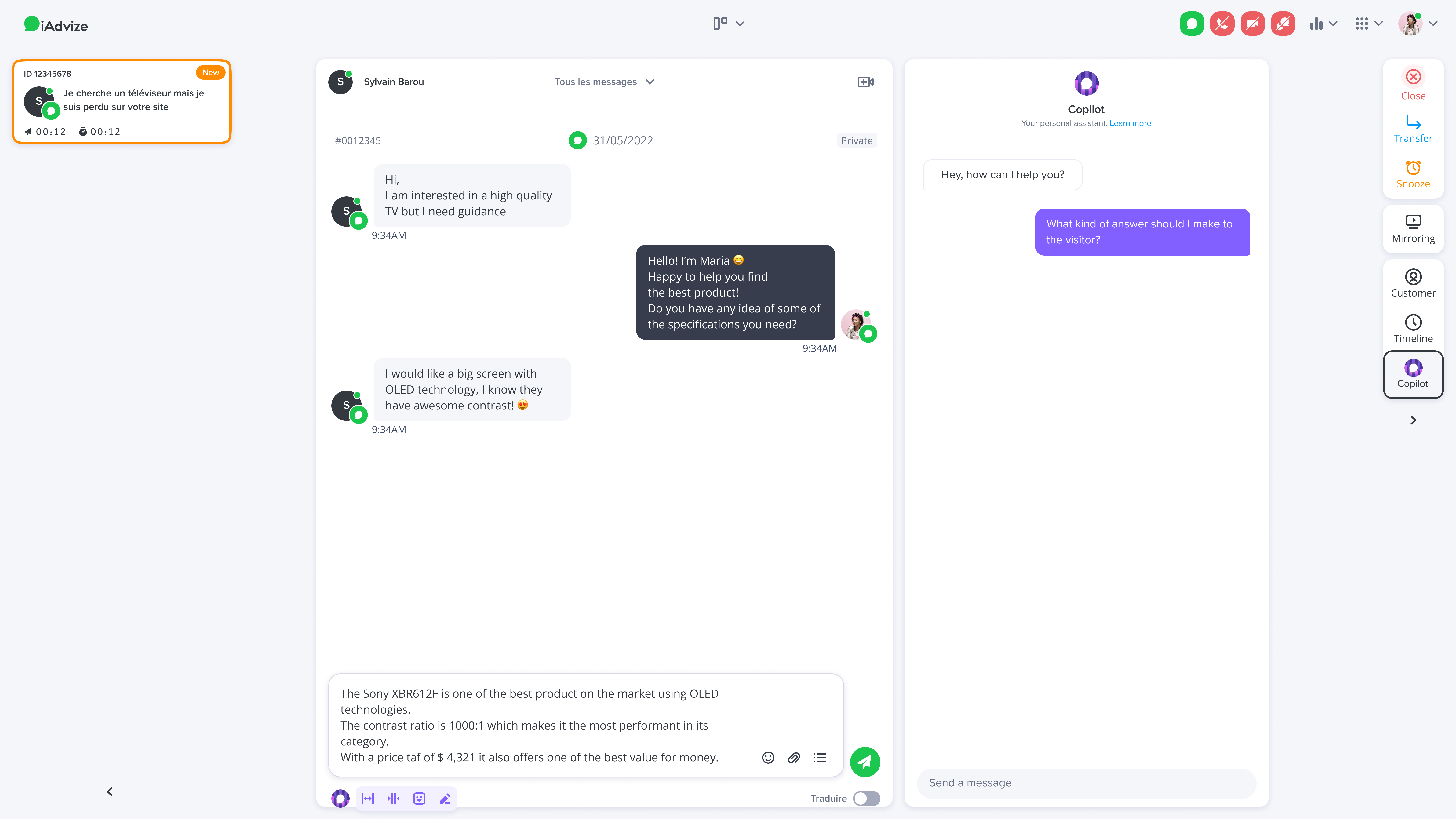 upon clicking the toolbar widget, Copilot takes the form of a conversation between respondents and the AI in the right-side panel
during this conversation, respondents can directly ask questions to the AI (e.g., "Please tell me about this product.")
the AI responds based on the information contained in its AI knowledge base.
if respondents are satisfied with the response, they can copy it directly into the text input field and modify it before sending
respondents can provide feedback on the quality of AI-generated responses by giving a thumbs-up or thumbs-down for each response
Below the Main Input Field

when a visitor asks a question, Copilot suggests a response
a simple click allows agents to copy the suggested response into the text input field and make any necessary modifications
the "expand" button lets agents elaborate on the current response in the input field
the "shorten" button, on the other hand, shortens the response
the "change tone" button enables agents to adjust the response's tone according to five possible nuances: formal, direct, confident, friendly, or persuasive—modulated to align with your brand's voice
the "improve writing" button enhances the writing style of responses
Mobile version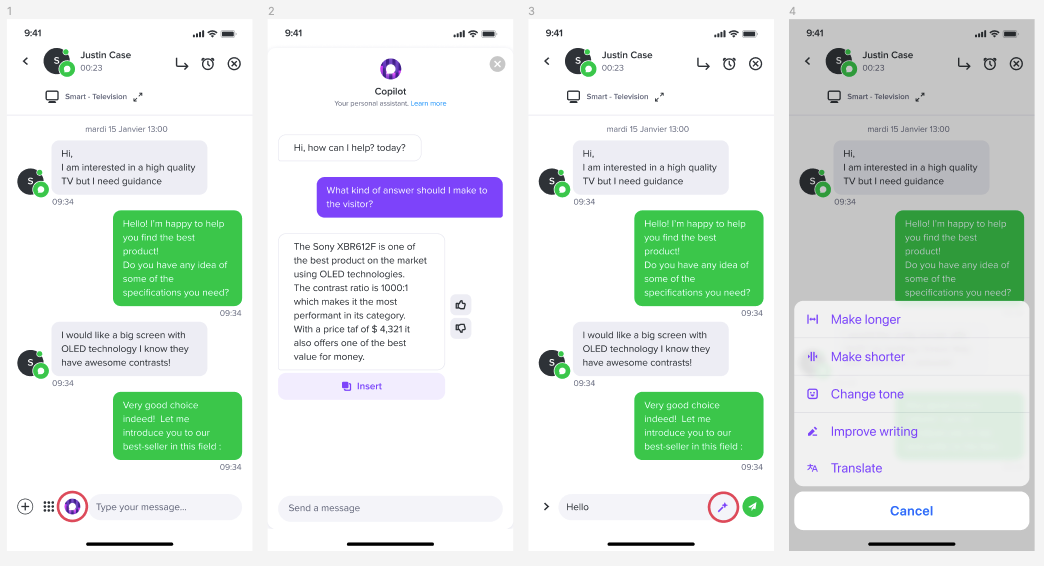 Copilot appears as a button to the left of the input field (image 1)
the conversation between the respondent and CoPilot unfolds above the main conversation (image 2).
writing suggestions are provided when clicking on the "magic wand" icon (images 3 and 4).
Activate Copilot for your team
As Copilot is currently in beta on iAdvize, please contact your usual representative to activate it manually.