For iAdvize, respecting internet users rights and ensuring their data is safe is essential. We therefore offer our customers, and their visitors, the transparency they want.
This means that it is possible to modify the privacy settings for each feature. To do this, go to "Engagement" > "Settings", and select "Privacy":

1/ Agent privacy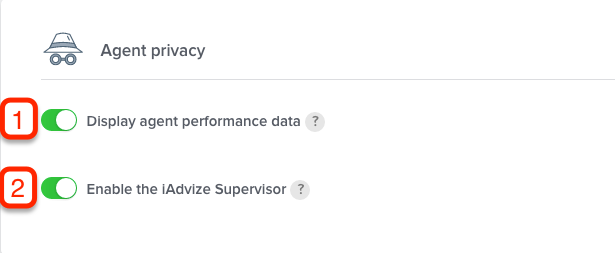 (1) As the protection of employee data varies greatly between businesses, you can choose whether you wish to have statistics for each individual agent or depersonalised (aggregated) statistics.
(2) Similarly, you can choose to enable the use of iAdvize Supervisor or not. This tool allows a manager or administrator to observe agents' discussions in real time, and also provide advice to agents during the conversation.


2/ Conversation privacy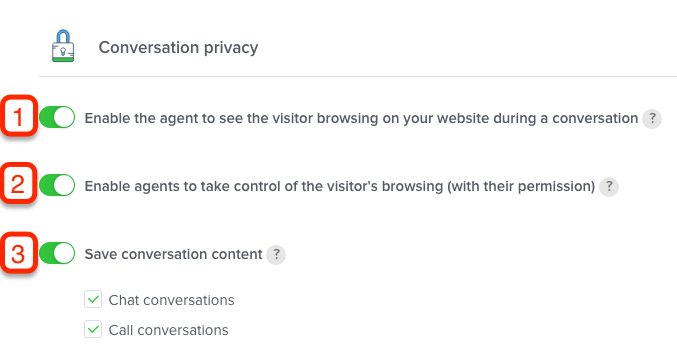 (1) For agents, the activation of the mirroring function is highly recommended. But some visitors may feel like they are being 'watched'. This is why the additional function "Offer mirroring" has been added. This allows the administrator to choose whether mirroring is activated or not by default.
(2) Another available option: cobrowsing. This can only be activated on request from the agent and with the permission of the visitor. Furthermore, the administrator can completely disable the cobrowsing function. This function allows the agent to take control of a second mouse on the customer's webpage and help their navigation.
(3) With the data protection settings, we give users the choice of whether or not to save previous conversations between agents and visitors, for both chats and calls.


3/ Visitor privacy

(1) The geolocation function may be necessary if a business is developing its activity in different countries with one or several sites but one sole team of agents. In this case, using geographical data for assistance is relevant to optimising the logistics process. However, as not all businesses are affected by this, geolocation can also be disable in accordance with visitor expectations and applicable laws.
(2) Finally, you can authorize visitors to delete their personal data at the end of a conversation.