By default, the language of iAdvize elements shown to visitors (buttons, invitations, chat window) is based on the language of the visitor's browser. This means that for a user with a browser configured in English, iAdvize elements will appear in English.

However, you can force the language to be shown by adding the parameter &lang to the iAdvize code inserted on your site.
You will need to log in to iAdvize:
Once connected:
Click on your 'Profile' button at the top right Then click the links "Projects" and "insert this script"
only managers and administrators have access to the iAdvize administration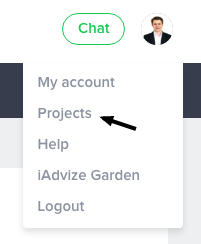 On this page, you can set a specific language and access to the code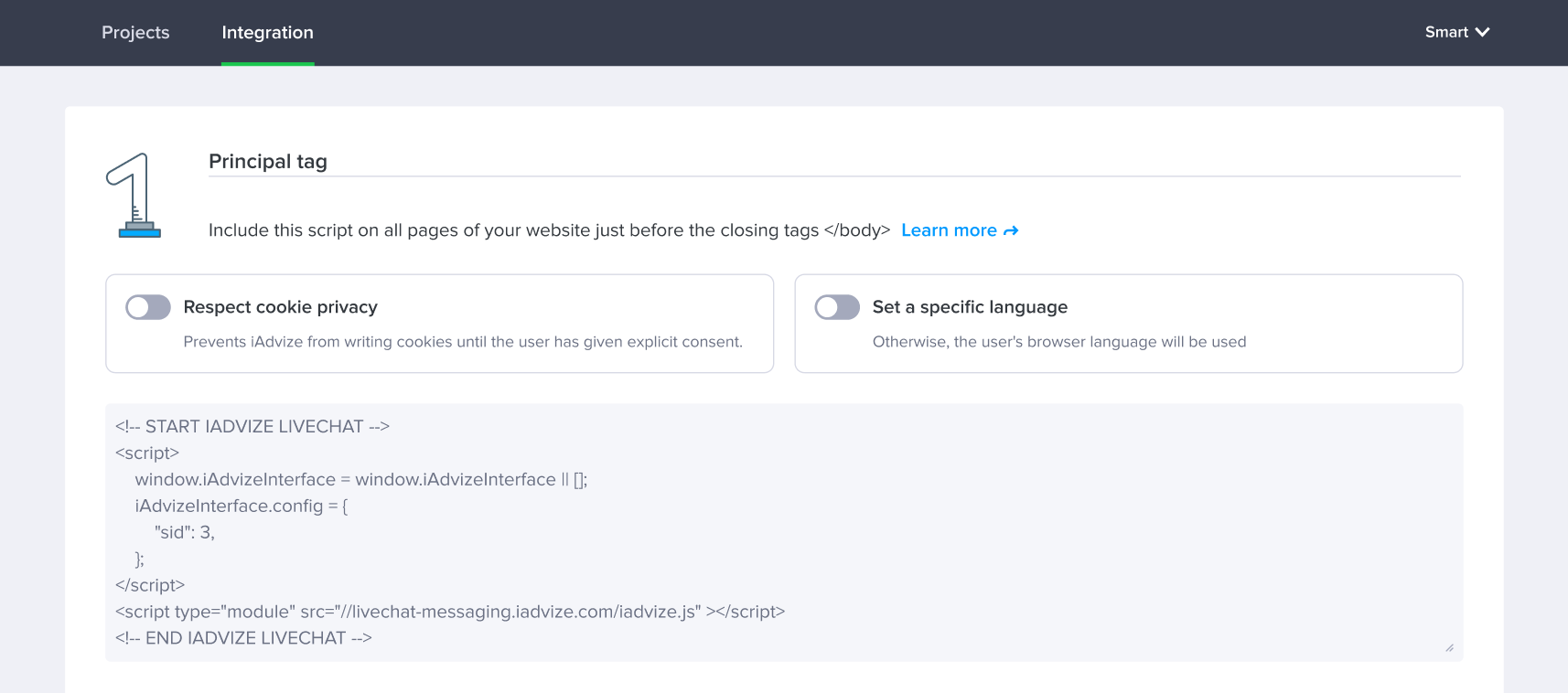 Note: this code is an example, which will not work if you insert it on your site (the information sid=XXXX is not right). You must therefore modify your iAdvize code and add the "lang" parameter to it.
If you do not know the iAdvize code to add to your site, this article will show you how to find it: Install the iAdvize tag on your website
Here is the list of languages ​​currently supported by iAdvize chat elements:
| | |
| --- | --- |
| Languages (31) | Code |
| Arabic | ar |
| Basque | eu |
| Bulgarian | bg |
| Catalan | ca |
| Croatian | hr |
| Czech | cz |
| Danish | dk |
| Dutch | nl |
| English | en |
| Finnish | fi |
| French | fr |
| German | de |
| Greek | el |
| Hungarian | hu |
| Italian | it |
| Japanese | ja |
| Korean | ko |
| Lithuanian | lt |
| Mandarin | cn |
| Polish | pl |
| Portugese | pt |
| Romanian | ro |
| Russian | ru |
| Serbian | sr |
| Slovak | sk |
| Slovenian | sl |
| Spanish | es |
| Swedish | se |
| Taiwanese Mandarin | tw |
| Turkish | tr |
| Ukrainian | uk |