By embedding this private beta, your use of WhatsApp Business must be in accordance with the WhatsApp Business Policy, which outlines the terms of disclosure.


WhatsApp's Terms of Use and Privacy Policy updated February 17th.
More information here.

It is also your responsibility to inform the customer about the possible uses of their personal data within and outside iAdvize.

Be as transparent as possible!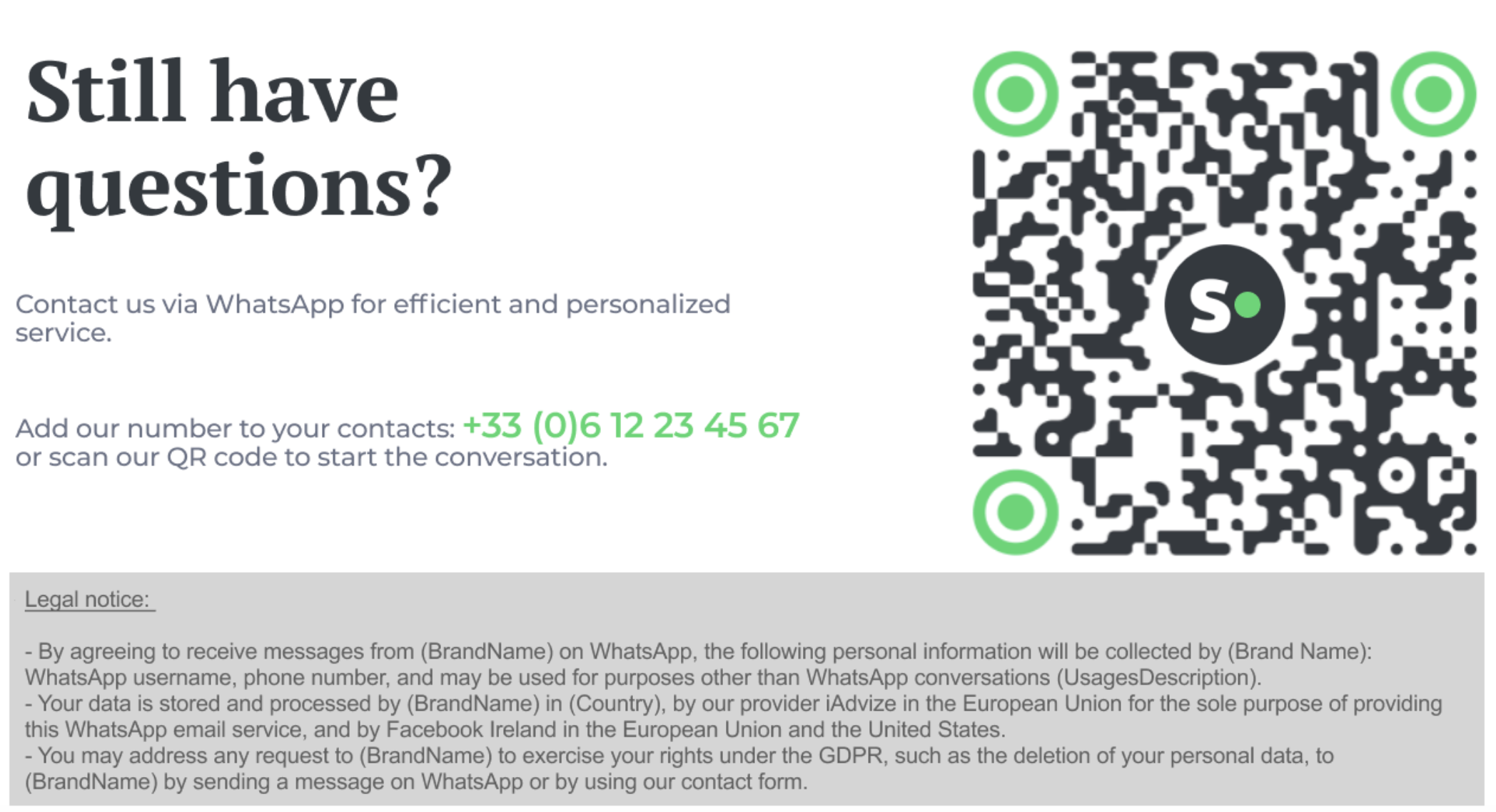 3.2 Within the "legal notice" page of your website
You can highlight this link: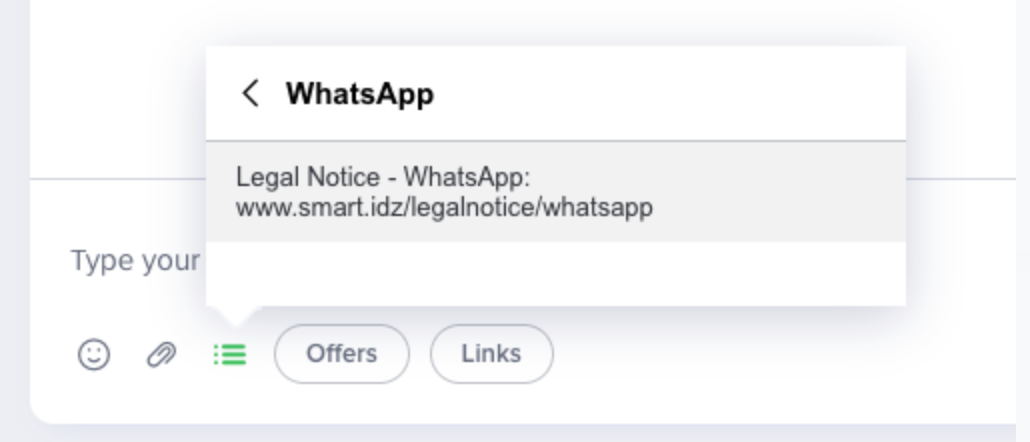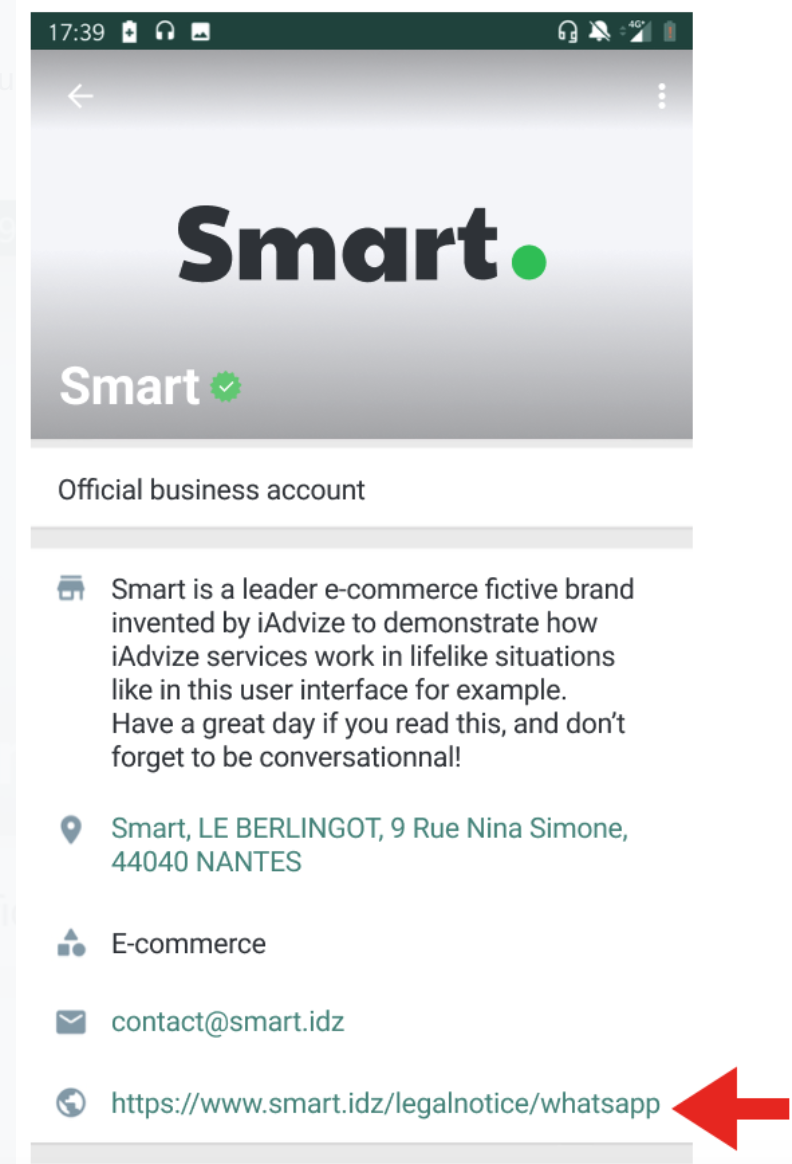 Waiver of Warranty. The iAdvize Pre-Release Software provided hereunder may be designated as alpha, beta, development, pre-release, untested, or not fully tested versions. The iAdvize Pre-Release Software may be incomplete and may contain errors or inaccuracies that could cause failures, corruption and/or loss of data or information. You expressly acknowledge and agree that, to the extent permitted by applicable law, all use of the iAdvize Software is at your sole risk and that the entire risk as to satisfactory quality, performance, accuracy and effort is with you. IADVIZE IS PROVIDING ALL CONFIDENTIAL INFORMATION, INCLUDING THE PRE-RELEASE SOFTWARE AND SEEDING TOOLS, TO YOU SOLELY ON AN "AS IS" BASIS AND WITHOUT ANY WARRANTY OF ANY KIND, WHETHER EXPRESS OR IMPLIED, INCLUDING WITHOUT LIMITATION, THE IMPLIED WARRANTIES OF MERCHANTABILITY, NON-INFRINGEMENT, ACCURACY, COMPLETENESS, PERFORMANCE, AND FITNESS FOR A PARTICULAR PURPOSE. You acknowledge that iAdvize has not publicly announced the availability of the Pre-Release Software, that iAdvize has not promised or guaranteed to you that such Pre-Release Software will be announced or made available to anyone in the future, and that iAdvize has no express or implied obligation to you to announce or introduce the Pre-Release Software or any similar or compatible product, or to continue to offer access to the Pre-Release Software in the future.