iAdvize gives you access to a range of information about your visitors so that you can help them as effectively as possible.
1/ From the chat window
When you are having a conversation with a visitor, a range of informations is available in the information panel, to the right-hand side of the chat window.
| | |
| --- | --- |
| | This panel gives you all of the visitor's information (browser information and information from custom data) |
Here you can find:
Source: This is how the visitor accessed your site (direct access, search engine etc.)
Navigation: Here you will find information about the visitor's navigation through your site: browsing time, number of pages visited, number of times the user has visited your site.
Profile: The profile contains technical information on the visitor (country, browser and operating system used)
Past messages: Here you will find the number of past messages between your agents and this visitor. Clicking "Show customer record" gives you access to the past conversations with the visitor.
Custom data: You can also show custom data about your visitor (current basket amount, your client identifier, etc.). To do this, a "Custom data" must be put in place within your iAdvize administration.
Here is an example using custom data to show the basket amount: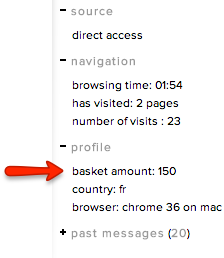 Note: custom data values are not stored, except the ones described in these articles:

Other custom data information are therefore no longer accessible once the conversation with your visitor has been ended.
Custom data offers numerous possibilities, and allows you to show any kind of information directly on the conversation panel. Find more information about custom data in this article: Creating and using custom data.

2/ From past conversations
A visitor record is automatically created for each conversation with a new visitor. You can add certain information relating to this customer in order to reuse it later.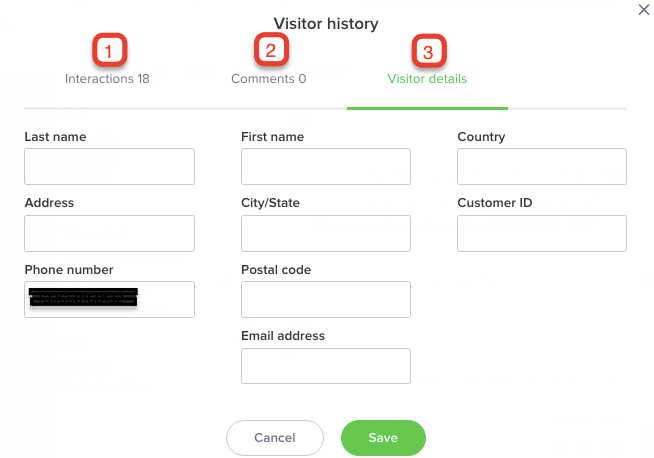 From the conversation panel, when you click on one of the past conversations a window gives you access to:
The list of past interaction with this visitor (1)
Comments (2): You can add several notes to this customer record in order to give additional information.
Visitor details (3): Here you can enter information relating to your visitor (name, address, town, postcode, country, telephone number, email address). Note : During conversations via the call channel, the visitor's number will be given automatically.