You don't have the answer to a question or you are not available to reply? You can forward a visitor to another agent.
Note : Due to technical limitations, it is not possible to transfer a conversation from the discussion panel to a user logged into the mobile application (ibbü or iAdvize). In this situation the message "Something bad happened" is displayed. 
1/ How to forward a visitor from the discussion panel
To forward a visitor to another agent, click the link "Forward this visitor" in the action pane of your chat window (1).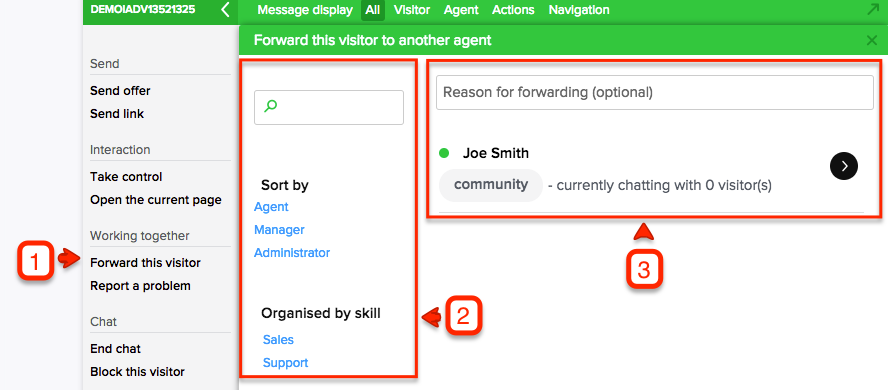 A forwarding window then appears. This comprises two parts:
(2) The search tool that allows you to find an agent by type of user (agent, manager or administrator) or skill (also called "department")
(3) This box will only show the users currently connected and available on the discussion panel and information about them (name, status, number of ongoing conversations, etc.). Agents who are unavailable or occupied at the maximum won't be able to receive transfers.
The list of available agents is updated every 5 seconds.
We advise you to complete the box "Reason for forwarding". This will then be shown in the destination agent's discussion.
To confirm the transfer, click the icon 

 for the agent you have selected. Once the visitor has been forwarded, the discussion is automatically closed on your discussion panel.
2/ How the transfer looks for the recipient
A new discussion appears in the recipient's panel. A message appears in the discussion to inform the agent that the discussion has been forwarded. This message can be accompanied by a reason if this was given during the forwarding. The new agent can consult the messages which have already been exchanged between the original agent and the visitor, and then continue the discussion.


3/ How the transfer looks for the visitor
A message is also sent to the visitor when a discussion is forwarded. However, we advise you to inform visitors in advance so they are not surprised.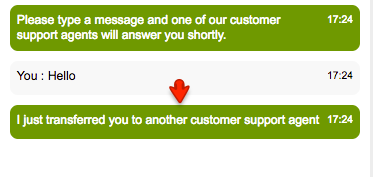 4/ Groups and transfer
An agent who belongs to a group will not be able to forward a conversation to an agent who does not belong to a group.
An agent who does not belong to any group, or an agent who belongs to a specific group (e.g. group A), can only forward conversations to an agent belonging to another group (e.g. group B) if chat transfers are allowed towards group B. This option is available in the group management page, by editing the group: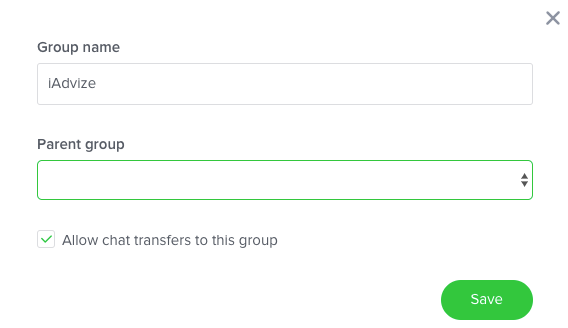 4/ Statistical reports
When agent A receives a chat and transfers it to agent B without having answered it, agent A's conversation will be added to their contacts report in the section of conversations initiated with no response.