During a conversation, it is possible to visualise the page your visitors are currently on (mirroring). You can also take over their browsing (cobrowsing). However, some elements cannot be technically reproduced yet.
1. Technical recommendations
- Bandwith : In order to easily use the mirroring and cobrowsing features, we recommend you to save 2 MB of bandwidth per agent. This is a high range, which varies according to the weight of the site you want to reproduce, and the number of simultaneous agents.
An undersized bandwidth will cause display problems and loss of grip. It will also have an impact on the overall stability of the discussion panel.
- Supported browsers: Here is the list of the browsers supported by iAdvize.
To have the best possible experience with iAdvize, we recommend you to use the latest versions of Google Chrome, Mozilla Firefox and Safari.
2. The limits of the mirroring feature
If visitors look at a page which contains the following elements, they will not be replicated on the discussion panel:
Here is the example of what is displayed for iframes: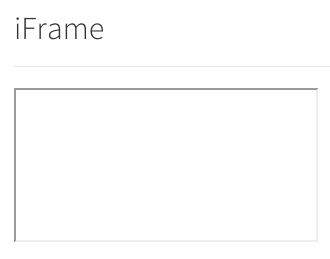 Note:
Depending on how iframes are used on your site, it is sometimes possible to find an alternative solution. Please contact our support team for more information on the subject.
These limitations also affect the cobrowsing feature, given that visitors' page is reproduced when agents take over their browsing.

Example : The https://demo.iadvize.com/ website that would use a canvas element using an image resource https://mdn.mozillademos.org/files/5397/rhino.jpg
4. The limits of cobrowsing
The following actions cannot be not be taken into account when agents take control of visitors' browsing:
onKeyDown, onKeyPress, mousedown
Actions on Google Maps integrated into web pages
For more information, please read the following article: The visitor's page remains blank in the background of the discussion panel