To increase productivity and autonomy, iAdvize allows you to give your respondents more tools that will appear on their conversation panel:
- their indicators, to monitor and improve their performance
- their snoozed conversations, to re-open them during their free time and complete their answers
- Smart summary, which offers them an AI-generated summary of previous exchanges
- their closed conversations, to analyze and improve themselves.
These features are enabled by default, only administrators can activate them one by one for a whole project. Here's how:
You can access the "Engagement" > "Settings" > "Privacy" section > "Agent access to indicators" and / or "Agent access to closed conversations" and / or "Agent access to snoozed conversations"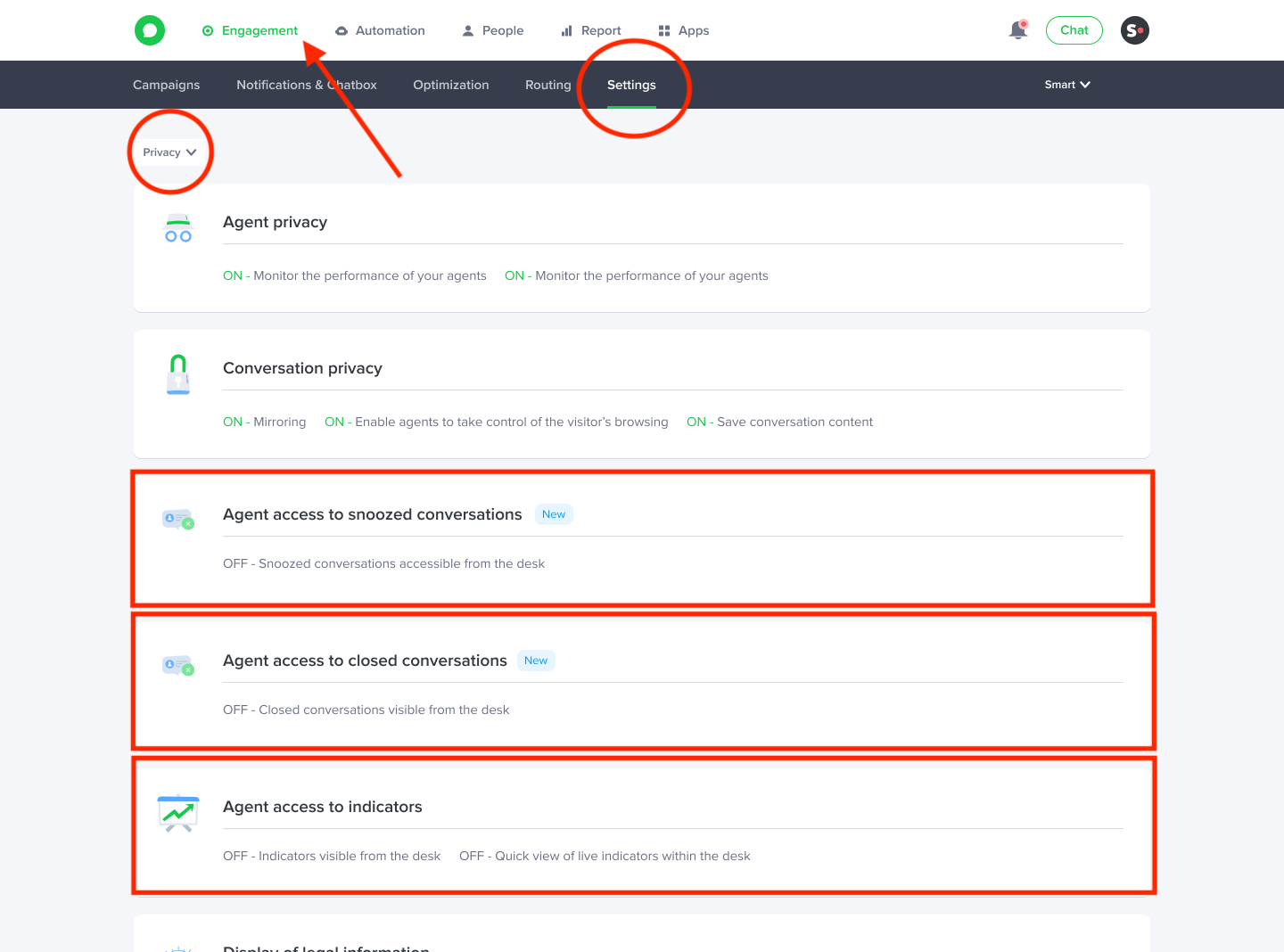 NB:
This feature's toggle is deactivated by default
; agents won't see anything related to their indicators, closed or snoozed conversations unless you decide to activate the feature.
More information.
NB: By giving access to snoozed conversations, respondents and ibbü experts will be able to see the details of their paused conversations in a specific page of their console and mobile application. They will be able to reopen a snoozed conversation before the visitor returns or before the time limit expires.
1.2 Manual notes and/or smart summary
You can also activate manual notes and smart summary in the administration area.
Go to > "Engagement" > "Settings" > "Privacy".


You can individually decide which indicators you want to display to your agents among the following list:
You can see how these indicators are calculated in this article: Definition of indicators

You can also decide whether you want these indicators to be displayed in a widget within the conversation panel ("quick view of the indicators within the desk": daily indicators displayed in real-time), and/or in a separate dashboard ("Indicators visible from the desk", indicators displayed in detail and according to different periods).
To learn more about agents and their indicators, you can check the dedicated article: Agents, follow your indicators